A closer look at major development projects shaping the new South End
July 20, 2018
By Clayton Sealy |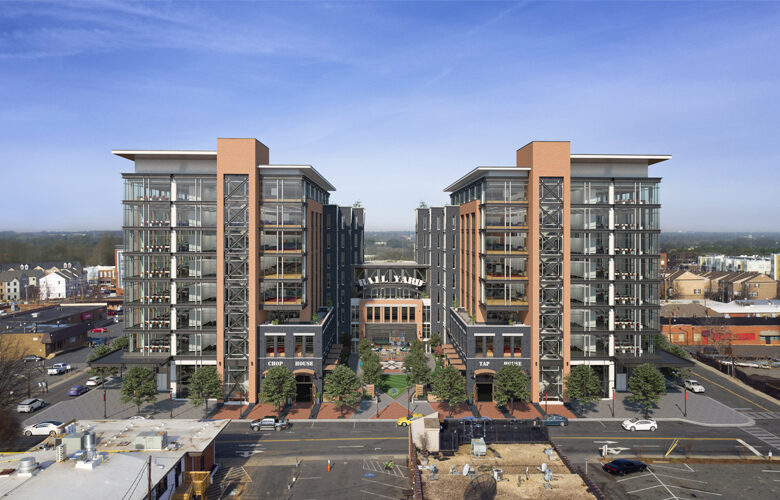 When the Blue Line first opened in 2008, there was promise of a new South End: A true cosmopolitan neighborhood, with places to shop, eat, party, live and work — or 'live, work, play' if you haven't grown tired of that phrase yet.
Developers in South End quickly built plenty of the "live" variety, increasing the neighborhood population by nearly 300% since the Blue Line's opening. Soon after, the neighborhood added the "party," followed by the "eat," and slowly but surely the "shop" has started to trickle in.
What has been sorely missing in the neighborhood is the "work."
South End is not devoid of office space – there's plenty – but it lacks the splashy Class A office buildings that define its next-door neighbor, Uptown.
Recently, that has started to change, as three office buildings along Tryon Street have topped out, and it would seem two more are to come.
None of these towers would be worth notice in Uptown; they're all are around the height to the tip of the scoreboards at Bank of America Stadium but they represent a massive paradigm shift for urban Charlotte. Until this past year, projects like these really only happened in Uptown, SouthPark and in or around Ballantyne.
South End's office building trend highlights just how strong Charlotte's urban submarkets are getting.
Its maturity from a residential perspective has started attracting companies who want to set up shop near where their future talent pool lives. They offer vibrant workspaces in burgeoning communities near employees' houses to keep people happy, more productive and perhaps maybe at work a little longer.
These types of projects will also add thousands of workers during business hours, allowing current and future retail and restaurant establishments to flourish. Retail follows rooftops after all, and people love to eat and shop on their lunch breaks.
When all is complete, South End will go from a commuter neighborhood to a full-fledged district. Here are the projects getting it there.
The RailYard: Overview
Today on the corner of South Tryon and West Bland, you will find twin skeletons of steel, clad partially in glass and brick. These buildings are the RailYard development by Beacon Partners. With two towers, standing eight floors in height and containing just under 300,000 square feet of office between them, RailYard is South End's first large-scale speculative office complex. We've heard a few rumors about tenants, including Allstate, taking up space, but nothing has been announced at this time.
"It's exciting to see office demand in South End so strongly follow the residential demand. The RailYard provides a quality office product for businesses to be in creative, hip space with the best amenities, such as outdoor greenspaces, rooftop terraces, neighborhood retail and restaurants on site, fitness, etc.," said Kristy Venning, broker at Beacon Partners. "But despite the RailYard's creative design and amenities, there is no question the location of the project being in the heart of South End is what makes it really special. We look forward to making some formal tenancy announcements soon."
Retail
RailYard will also feature around 30,000 square feet of retail, with ample outdoor seating, and while it will have a large parking deck, a necessary evil, it'll be open to the public after hours and screened on all four sides by other uses.
Micro-Apartments
Screening the parking deck on three of the sides will be around 90 residential units, all 400 square feet or smaller. These micro-apartments might be tiny, but because of their size and bare-boned amenities, will have much lower rental prices than nearby apartment developments. The feeling is that South End has enough amenities on its own to satisfy young professionals, who need less and less space. The building is being developed by David Furman at Centro City Works.
Related Agenda story: Now with zoning approved, I can't wait to see David Furman's smart bet on micro-apartments in South End
When complete later this year, RailYard's architecture will pay homage to South End's industrial past, with facades clad in ornate red and black brick, glass curtain walls and ornamental steel. RailYard, despite soaring more than 140 feet above its surrounding neighbors, should blend perfectly into the industrial aesthetic of South End.
Whether it be the Sky Terraces topping each building, the ample gathering space dubbed "The Yard" sitting between the two buildings or the in-house fitness center, the amenities of RailYard will keep the workforce engaged.
Dimensional Place: Overview
On the corner of Camden and Tryon rises South End's new center of gravity, Dimensional Place, an 8-floor office tower with street front retail, being developed by Cousins Properties. Dimensional Place sits on sacred ground in South End; not only was it home to Common Market and the "Food Truck Lot," but it was also the original stomping grounds of Gaines Brown, the pioneer of South End as we know it. With roots like that, Dimensional Place has big shoes to fill.
While RailYard was South End's first foray into big-time speculative office projects, Dimensional Place is the neighborhood's first proof of concept.
Office Space
The two projects feature similar sizes, high-quality contemporary design and ample retail, but there is one big difference between the two projects: unlike RailYard, Dimensional is being built to house a single company from outside the market who is willing to bet big on South End.
When completed, Dimensional Place will feature 282,000 square feet of office to house Austin-based Dimensional Fund Advisors, an investment management company.
Architecture
Dimensional Place is already shaping up to be an architectural marvel in South End. It's a departure from your average "beige boxes" that have haunted this building cycle. It soars 163 feet from the pavement and is skinned with a glass curtain wall broken up by articulating metal panels. The retail facades are human-scaled and handsomely adorned with terracotta tile and wood panels.
The project will feature many of the same characteristics as RailYard, but instead of 15,000 square feet of green space on the ground, it'll have a large rooftop deck for employees to enjoy. Dimensional Place will be delivered over to the client for internal upfit sometime in December of this year.
The future
South End's commercial district seems to just be hitting its stride. After months of hinting at a possible upcoming project and rumors streaming through the industry, Spectrum filed planswith the city for a transformational new project at 1100 South Tryon.
Related Agenda story: New South End hotel, urban plaza and office space planned near Midnight Diner
The project will feature a very similar format to RailYard, only a bit bigger. The complex will feature two towers, containing a total of about 400,000 square feet of office space, and a central square, ringed by 40,000 square feet of retail.
Instead of a residential tower, the complex plans to have a 10-floor, 200-room hotel perched atop a seven-floor parking deck. Thanks to the close proximity to Uptown and the obvious whitespace in the market, Spectrum feels this site is well situated for a boutique hotel concept and hopes to kick off this project 1st quarter 2019, with the first portions of the project delivering late 2020.
I spoke with Steve McClure, COO of The Spectrum Companies, and he offered some valuable insight and a great story. His first job in Charlotte was in a small office in Atherton Lofts, 15 years ago. South End had little to offer at that time, and he commuted every day from a small apartment near the Harris YMCA. He has watched South End grow from nothing to a robust urban district and is excited for Spectrum to make a lasting impact on the neighborhood.
The most important takeaway from my conversation with Spectrum is that they truly care about contributing to the neighborhood in a positive way. You can look at 300 South Tryon, their most recent project, to see that they are dedicated to developing high quality, and thoughtful buildings.
Spectrum wants to give everybody, not just workers, a place to collaborate. They intend to give the entire South End neighborhood ample space, both inside and outside, to engage with one another. When complete, the project plans to have a large, well activated green space that'll act as a "town square" facing Carson Boulevard. Plans aren't fully fleshed out at this time, but we will be excited to cover this project as it progresses forward.