Auto Parts Company to Relocate Longtime Charlotte Distribution Center, Doubling its Size
January 14, 2019
By Ashley Fahey | Staff Writer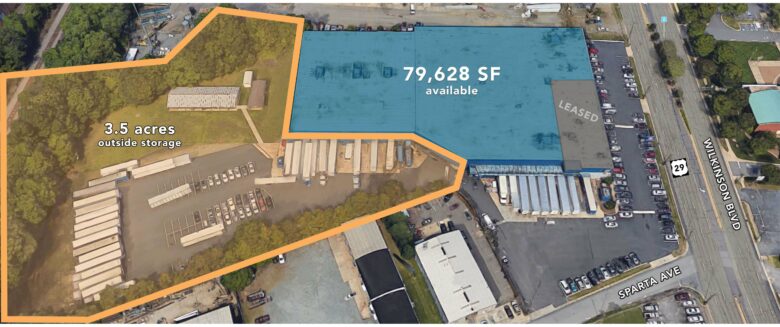 A building that has for decades served as the local distribution center for an auto parts company will be up for lease in the coming months.
National Automotive Parts Association, or NAPA Auto Parts, will exit its distribution business at the 90,901-square-foot building at 4101 Wilkinson Blvd., and move to a larger one — about double the size — later this year, said Jon Morris, senior partner of Beacon Partners' industrial division. Morris said the new center will be a couple of miles away, within the same submarket, and be a "larger, state-of-the-art and more modern" distribution facility for NAPA. Beacon is developing that center.
Beacon purchased 4101 Wilkinson this week for about $3.5 million, according to Mecklenburg County real estate records. It acquired the building from Genuine Parts Co. (NYSE: GPC), the parent company of NAPA. Beacon will re-lease the building once NAPA relocates to its new center, putting the 76,628 square feet of available space up for occupancy in the summer of this year, Morris said. The space can be subdivided for two users, he added.
NAPA has been owner-occupier of the building for decades, since about the 1950s or '60s. NAPA will retain a retail store at the building following its distribution business move. As part of the acquisition, Beacon says it will make significant capital improvements at the building.
"It's an older distribution space (and) fits a niche in the market," Morris said of the 4101 Wilkinson building, comparing it to Beacon's holdings at Atando Business Park, an older industrial development in north Charlotte. He added 4101 Wilkinson and Atando can serve as good last-mile distribution center locations. The Wilkinson site also includes 3.5 acres that can be used for outside storage, Morris said.
Tim Robertson at Beacon Partners is leasing 4101 Wilkinson. Morris said the expected asking rate will be in the $4.50 to $5 per-square-foot range.
Morris said that as Charlotte continues to grow, demand for industrial space has been for a range of needs — small and big product alike. But it's become more challenging to build new product for small users, particularly those needing less than 50,000 square feet, primarily because of the high cost of construction. Tariffs imposed by the federal government are also continuing to plague the commercial real estate and construction industries, with several local developers and general contractors having noted the continued impact on materials pricing over the past several months. Morris echoed those sentiments, saying cost increases on materials isn't abnormal but the higher prices are "sticking" rather than fluctuating.
Demand has been high for existing small-footprint industrial space in Charlotte, Morris said, because there's limited supply in the market, especially as developers snap up warehouses in areas like South End and West Morehead Street for adaptive-reuse office and retail projects.
"We're seeing our best rent growth at Atando because you can't build them," Morris said. "It's cost-prohibitive ... it's very difficult to make the economics and economies of scale work for the smaller users."
Ranger Construction is the general contractor for the work to be done at 4101 Wilkinson. Tenant Improvement Interiors is the architect. JLL represented NAPA in the sale.