Beacon Partners Breaks Ground on Second Industrial Building at RiverOaks Corporate Center
January 08, 2016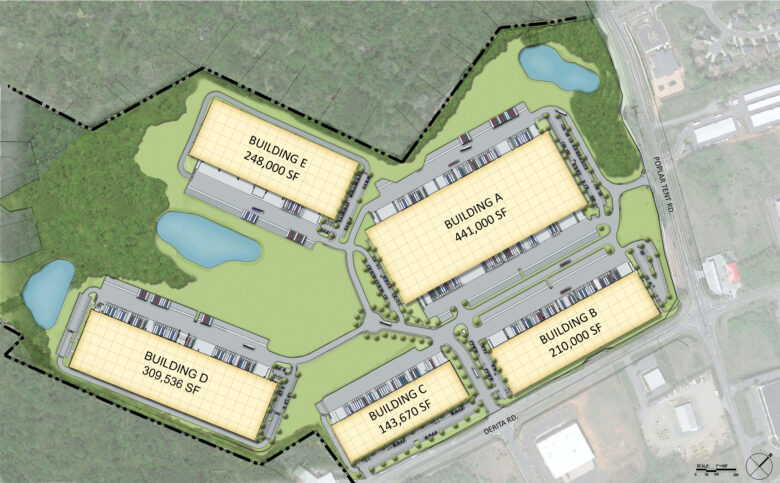 CONCORD, N.C. –  Beacon Partners has broken ground on its second speculative industrial building in RiverOaks Corporate Center. The state-of-the-art 309,536 square-foot building (Building D), is scheduled for completion in the second quarter of 2016.  
"Because of the support provided by the City of Concord and Cabarrus County to us over the last decade, Beacon Partners has decided to invest significantly at RiverOaks Corporate Center. This second speculative building of 309,536 square feet, creates a total of 453,000 square feet completed or under construction," said Partner, Jon Morris. "Further, we are accelerating the construction of park infrastructure, including pre-grading the remaining three sites consisting of ±82 acres. We believe such public-private partnerships between developers with a proven track record and vested communities will drive the direction of manufacturing and industrial growth in the future."
Project Manager for Cabarrus Economic Development, Samantha Grass, added, "We are pleased with Beacon Partners' commitment to our community through their development of RiverOaks Corporate Center.  This master-planned industrial park significantly helps our efforts to assist existing companies expand and to attract new companies to Cabarrus County.  There is a strong demand for this type of industrial product, and we are very excited to add this new development to our product inventory."
Choate Construction is the general contractor for RiverOaks Corporate Center, with Merriman Schmitt as the architect, and ColeJenest & Stone as the civil engineer. Wells Fargo is financing the project.  Beacon Partners is one of the most active Charlotte developers, having completed or begun construction on approximately 1,500,000 square feet throughout the Carolinas in 2015.