Beacon Partners exec on company rebrand, long-term strategic plan
December 11, 2017
By Ashley Fahey | Staff Writer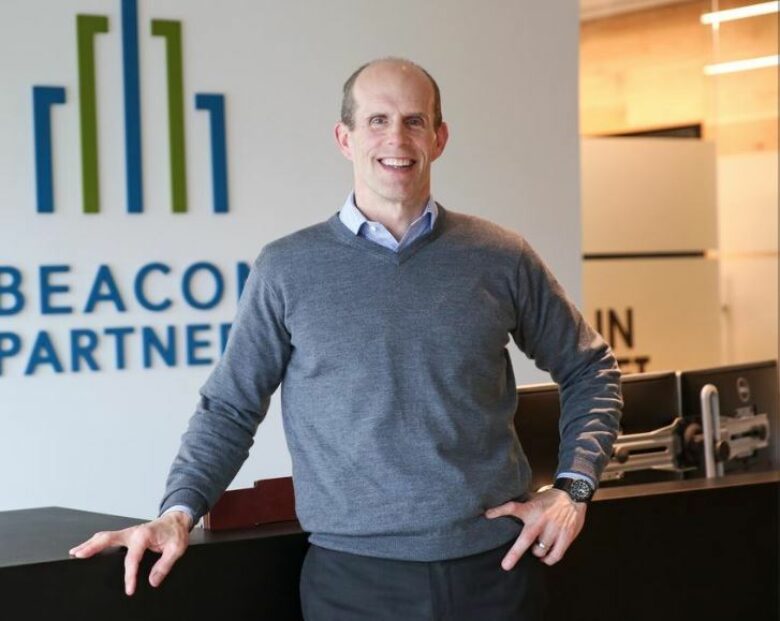 One of Charlotte's most active commercial real estate firms in the office and industrial sectors recently refreshed its look with a new logo and brand.
It's just one piece of a longer-term strategic plan for Beacon Partners, which could help steer the firm into new markets, real estate sectors and business lines over the next five to 10 years, said Pete Lash, managing partner at Beacon Partners. The rebranding effort, done in partnership with Charlotte agency Spark Strategic Ideas, is a way to help visually convey the company's core values.
"It was a natural time to look at what our story was to the market," Lash said. "We looked at what message we want to convey, what do we all stand for internally, what's important to tell the outside?"
It's the first time since 1991 that Beacon has changed its logo or brand, he continued. That logo came from Beacon's first business park, which included a tree in its brand. But while that logo and tree were incorporated in all of Beacon's properties from 1991 onward, it wasn't a brand borne from a specific conversation or thought process about the real estate company's values and goals like the new logo is intended to be, Lash said.
About a year ago, Beacon Partners began thinking about the company's next steps, including the visual "storytelling" piece via branding. Discussions among employees at Beacon Partners helped pinpoint the company's core values — collaboration, accountability and purpose — which then helped create a mission statement, "investing in the future of our community," Lash said.
Putting those pieces into a symbol was a challenge but Lash hopes what was ultimately developed will help convey that message.
"(The logo) had to represent what we do, which is real estate, but also symbolize what this commitment to a bigger purpose of community building is," he said, adding the logo could be buildings, a city block, a community center or something entirely different.
Beyond the logo and new color palette, which will be fully implemented in all the company's properties and materials over the next four to five months, Lash said the company's leaders have had a lot of conversations about where Beacon is headed from a business standpoint.
Over the past several years, Beacon has focused its efforts in the Charlotte region — especially industrial parks and urban infill office instead of the more traditional suburban office it had worked in years prior. Lash said sharply focusing on small geographic areas like the South End/midtown submarket is intentional, to become a significant player in high-growth markets.
"It's about doing deals in a market that you feel really good about owning in for 20 years," he said.
It's a strategy Beacon implemented following last decade's economic downturn — "strengthening the foundation," being selective about which markets to work within, bolstering capital sources with high net-worth investors and becoming long-term owners, unless really good opportunities present itself, Lash said, citing Beacon's decision to sell almost 2 million square feet of industrial real estate last year.
"It's also helpful when you're building a service company, that you have assets that you know you're going to lease and manage and you can look at next year and say, 'Oh, I can see a lot of recurring revenue,'" he continued.
Looking ahead, Lash sees opportunities for Beacon to enter new markets or reenter ones the company has worked in previously but have since pulled back from to focus on Charlotte. It could also mean wading into new property types — the firm has developed a small build-to-suit business, a departure from Beacon's more traditional speculative approach to office and industrial.
"If you look at the Southeast and the opportunities, or at least this region, we could get into some other property types that would be natural fits," he said. "We have great ties in the Triangle and down in South Carolina, and we might go outside the borders of the Carolinas in the future.
"But the key for us is going to be attracting great people and then ... chasing opportunities and growth," he continued. "I wouldn't limit our property types in the future but we'll be very diligent about how to decide what to chase."
Beacon also this year moved its offices to 500 East Morehead, the mixed-use building it delivered this spring. The company is in 10,000 square feet, an increase from its previous office, and can better accommodate future growth. Beacon currently employs about 30 but hopes to "build some capacity," Lash said.
Gensler did the architecture for the space and Balfour Beatty was the general contractor.