Beacon Partners Goes Vertical on Corning Optical Communications Headquarters
July 20, 2018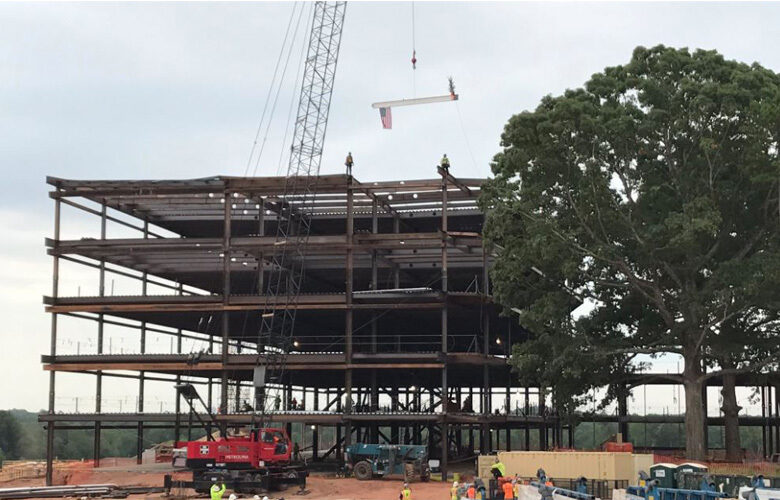 Beacon Partners is pleased to announce the topping out  of its build-to-suit global headquarters building for Corning Optical Communications in northwest Charlotte. The 182,170-square-foot building's steel erection began on May 14 and will be completed today.
"We are excited to see the construction progress on the six-story Corning Optical headquarters and proceed to the next stage of this project," said Sean McDonnell, Director of Build-to-Suit Development at Beacon Partners. "It has been a pleasure working with the people at Corning to co-innovate their new home and design a best-in-class office space."
Next comes the "exterior skin," which includes View Dynamic Glass, metal panels, roofing, site work and landscaping. The entire build-to-suit project is on schedule to be completed in early 2019.
As the world's leading innovators in materials science for 167 years, glass is an essential part of Corning's site plan, which features rough, textured materials on the south side and smooth, refined materials on the north side. Corning's new headquarters will also showcase high-tech View Dynamic Glass windows, invented to eliminate glare, change hue and moderate internal temperature. The "smart glass" windows are designed to increase energy efficiency and better worker productivity, via technology accessed through an app.
Corning's new LEED-certified headquarters will consist of a high-performance, all-optical network that will show its world-leading optical fiber and wireless technologies. Over 650 employees will enjoy a creative work environment providing spaces for collaboration, as well as areas for focused, individual work. A park-like atmosphere with walking trails and pathways will also be available for use by employees, residents and area visitors, reflecting Corning's commitment to sustainability and community.
Corning is relocating its Optical Communications headquarters from Hickory, N.C., where it will continue operating several manufacturing facilities. The headquarters move is designed to enhance Corning's long-term growth and strengthen its competitive position globally as the world's only end-to-end manufacturer and supplier of optical solutions and the largest fiber producer with the lowest-cost manufacturing platform.
The new location will provide centralized access to Corning's manufacturing facilities across North Carolina; advantaged access to transportation for Corning's global customers, suppliers, business partners, and thousands of its employees; and increased access to specialized talent to support Corning's future growth into new areas and technologies.
Alongside Beacon Partners, the team includes Gensler as the shell building architect, Balfour Beatty as general contractor, and Land Design as civil engineer. Financing is provided by Regions Bank.