Beacon Partners to Spearhead Another Major Mixed-Use Project in South End Area
January 28, 2019
By Ashley Fahey | Staff Writer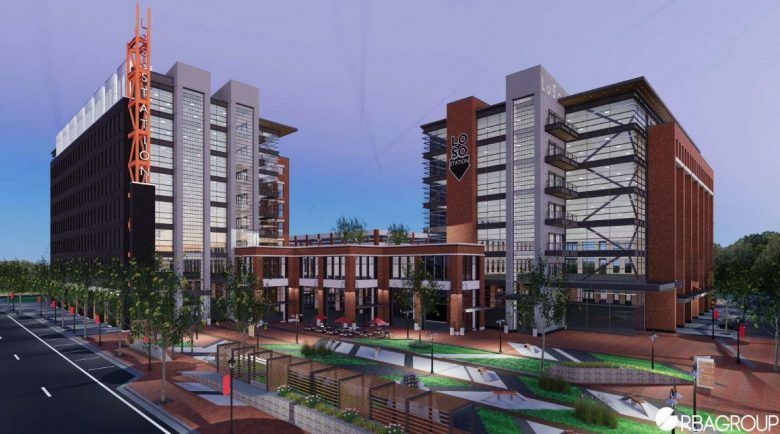 Beacon Partners, a Charlotte real estate firm that's been especially prolific in South End and midtown during this development cycle, is gearing up to start another mixed-use project, this time farther down South Boulevard.
Beacon will lead a project called LoSo Station at the Lynx Scaleybark Station. At full buildout, the project is expected to include north of 500,000 square feet of creative office space, 30,000 square feet of retail and restaurant space, 350 multifamily units and a 150-room boutique hotel. LoSo is a name that's been informally given to the area south of Historic South End along the Lynx Blue Line, where a number of breweries, retailers and other uses have sprouted as a direct result of the transit corridor and activity in South End.
Beacon will develop the office and retail space. The 15-acre site will also include rooftop entertainment, meeting space, outdoor retail plazas and athletic amenities for tenants and residences, Beacon said. LoSo Station will also be directly on the Charlotte Rail Trail, a walking and biking trail that follows the Blue Line into uptown.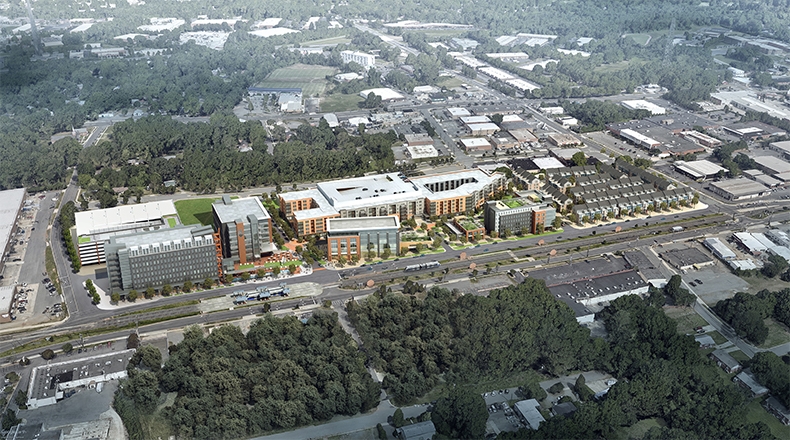 Construction for LoSo Station is anticipated to begin this summer, with the first office buildings expected to deliver in mid-2020, said Mike Harrell, senior partner of the office division at Beacon Partners. It wasn't immediately clear how the office development would be phased; but, given the size of the project, Harrell said phasing is likely.
Harrell said the office space will be broken up into four buildings — ranging from 75,000 square feet to up to 220,000 square feet and between five to eight stories — and all will include ground-floor retail. The majority of the office space is planned to front South Tryon Street (between Freeland Lane and Whitton Street), with one facing DeWitt Lane. The hotel is pegged for the corner of South Tryon Street and Tryclan Road, across from existing townhouse construction, and two freestanding retail buildings are planned on Tryon (between Whitton Street and Tryclan Road).
A five-story multifamily building with ground-floor retail is planned behind the freestanding retail area, adjacent to land pegged for affordable housing that the city now owns after a deal reached last year with former land owner Pappas Properties. The land is today owned by Cherokee, a Raleigh-based investment company. The former joint venture partners are tied up in a dispute over an escrow payment made by Pappas Properties after the Charlotte firm failed to exercise an option to redeem Cherokee's interests in their project, called South Village, by a deadline of December 2017. The dispute has been sent to arbitration.
Harrell said no tenants have signed on at LoSo Station yet. Conversations are ongoing with retail prospects, including restaurant, fitness and entertainment venues.
"We have a lot of retail interest right now," he continued.
The area around Scaleybark Station is starting to represent an extension of the momentum seen and underway in South End. Harrell said for some companies, the LoSo Station site might be a preferred office location because of its accessibility to Interstate 77, Park Road Shopping Center, SouthPark and other places.
LoSo Station has an aesthetic similar to Beacon's RailYard project in South End, a project wrapping up construction and expected to deliver in the second quarter of this year.
"We try to make sure the buildings blend into the neighborhood ... and add to what's already there," Harrell said. "These are not typical-looking office buildings but we're trying to create a place that fits the urban feel and is attractive to younger employees."
An estimated value of the project was not provided Monday, with Harrell saying the development remains in design and planning.
Beacon's first major development in the South End area was 1616 Center on Camden Road, in partnership with David Furman, that delivered in 2016. Shortly thereafter, Beacon began work on 500 East Morehead in midtown followed by The RailYard, which includes two buildings with 300,000 square feet of office space and 30,000 square feet of retail on a block bounded by Tryon, Bland, Winnifred and Winona streets.
Also on deck: Common Square at South Tryon Street and West Boulevard in Wilmore, going through rezoning now, that will include 130,000 square feet of office and 10,000 square feet of retail in addition to apartments and potentially a boutique hotel. Beacon is working with Furman and existing landowners on that project.
Beacon also recently acquired several warehouse buildings in close proximity to the Scaleybark land (3500, 3521, 3530, 3531 and 3539 Dewitt Lane and 3621 Tryclan Drive) as part of a large portfolio deal. Harrell said Monday the adaptive reuse planned at those buildings, which total about 50,000 square feet, is a separate project from LoSo Station.
HFF is marketing the multifamily and hospitality offerings at LoSo Station. The project team includes RBA Group, LandDesign, JDavis Architects, Walker Consultants and LDSI.