Beacon's latest South End project could become taller
June 20, 2017
By Ashley Fahey | Staff Writer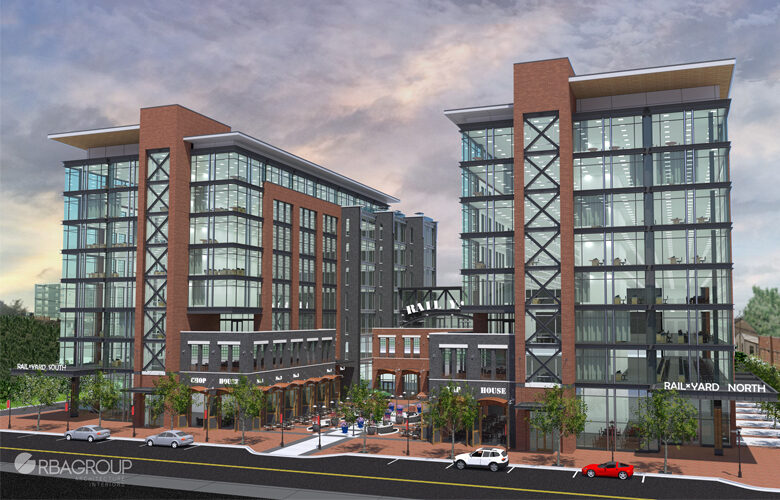 Charlotte developer Beacon Partners, in partnership with developer and architect David Furman, is seeking to rezone a high-profile block in booming South End for a significant mixed-use project.
The RailYard, proposed for a 3.5-acre block bounded by Tryon, Bland, Winnifred and Winona streets, was previously reported to include nearly 300,000 square feet of office space, ground-floor retail and 100 micro-apartments in two eight-story buildings facing a central public plaza.
During the public hearing for The RailYard at Monday's City Council zoning meeting, the possibility of 10-story buildings — up to 170 feet in height — was brought up.
"From my understanding, there is not someone lined up to take this but interest is good," said Collin Brown of K&L Gates, who represented Beacon at the project's public hearing. "We want the ability to get to 10 stories to get jobs right by the transit station."
As South End continues to grow and attracts development and investment, new construction is getting denser and taller — and includes uses beyond multifamily units, of which South End has received thousands.
Dimensional Fund Advisors' new East Coast operations under construction now at the former Common Market site will rise seven stories and measure 200,000 square feet. And several boutique office projects, while not exceedingly tall, have been proposed throughout South End, highlighting the area's evolving status from an industrial hub to a significant rental neighborhood to a more substantial office market and mixed-use district.

At Monday's meeting, there were no speakers signed up in opposition to the project, which Brown attributed to Beacon and Furman's community meeting last May to gauge what South End residents sought in the development. Out of that meeting, Brown said things like a mixture of uses, public spaces, residential along non-major streets and screened parking decks were deemed important, and the development team incorporated those desires into The RailYard project as much as possible.
Beacon purchased the site in 2015 for $10.1 million. Beacon is heading up the commercial development at The RailYard, and Furman is developing the residential component, including loft-style micro-units and street-level incubation space.