Coming soon: 2 new restaurants from the owner of The Mayobird and The Summit Room
November 15, 2016
By Cory Inscoe | Editor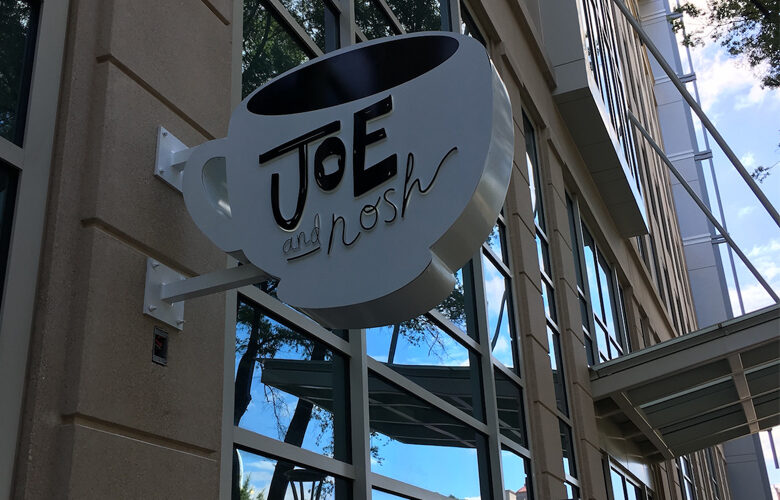 Deedee Mills loves stories. Just look at the back of The Summit Room's menu or on The Mayobird's website.
So it's no surprise that the restauranteur's two newest restaurants also come with a detailed backstory.
"I'm all about the story," Mills said. "I don't do anything without a story."
Mills will open two new restaurants — Joe and Nosh, and The Packhouse — in 5,600 square feet at 500 E. Morehead St., just across Caldwell Street from the Dowd Y. The seven-story building, which will also feature offices, is currently under construction and Mills said she expects the restaurants to open in May 2017.

Unlike her first two restaurants, The Summit Room and The Mayobird, these two new restaurants will feel completely separate, with different interiors and separate entrances. But like the other two restaurants, Joe and Nosh, and The Packhouse will share a kitchen, and one will focus more on coffee and sandwiches, and the other more on dinner and drinks.
"I know I'm crazy" for opening two restaurants at the same time — again, Mills said. "It's almost like I don't know how to do it any other way. … I know it seems crazy to everyone else but to me it's like, 'Oh, this is what we did last time so let's do it again.'"
Here are details on the new restaurants — and a little bit about each one's story.
Joe and Nosh
Joe and Nosh is exactly what it sounds like: Coffee and food. Here's what to expect:
– Coffee, lattes, blended drinks and smoothies, plus sandwiches, soups and salads. – Open early — 6 or 6:30 a.m. — but will be open later than The Mayobird, maybe to 9 p.m. – Interior design will be very "clean": Black, white and silver.
The story: With Joe and Nosh, Mills wants to pay homage to The Coffee Cup, a historic restaurant on Morehead Street that was torn down in 2009. Withers Turner opened The Coffee Cup in 1948 as a "roadside food stand," which largely served the workers in the factories and warehouses nearby.
At first, only whites were allowed inside the dining room. Later, in the 1970s and 80s, new owner Mary Heath "opened the door enthusiastically to African Americans" and the restaurant was eventually sold to Christine Crowder, an African-American former waitress and her white friend, Mary Lou Maynor.

Mills said she loves that The Coffee Shop was owned by a woman, that it was one of the first restaurants to integrate in Charlotte, and that it represents old Charlotte to her. She hopes to pay tribute to it with two large murals inside Joe and Nosh.
The Packhouse
The Packhouse will be more like The Summit Room in vibe and type of food. Here's what to expect.
– Southern-inspired food, but more healthy options — not necessarily just the unhealthy, heavy stuff usually associated with Southern food. – Open for lunch and dinner, and possibly late night with a full bar. – A private dining room that will be opened up to the restaurant when it's not being used.
The story: Mills grew up in Williamston, a little town in eastern N.C. where tobacco was king. The packhouse is the structure tobacco farmers used to cure and store the tobacco leaves. Mills has acquired three packhouses that are falling down with plans to tear them down and use them to decorate the new restaurant.
"The Packhouse is sort of my roots, if you will," she said.
Bonus story: As her hometown and the rest of Eastern N.C. became less dependent on tobacco, an organization called The Golden LEAF Foundation was organized to give grants to help tobacco-dependent communities. One way it did that was by helping farmers start to grow muscadine grapes, Mills said. With that in mind, Mills decided to launch a line of muscadine wines called Cured, with 10 percent of the profits going to different nonprofits that are looking for cures.
Her 8-year-old son, Cannon, who was born in Ethiopia, will also be bottling his own grape juice — Cannon Shine — with 10 percent of the profits going to an Ethiopian-focused nonprofit of his choosing.
The restaurants will be in a new space in a new neighborhood, but Mills hopes to bring the same sense of community she's had at The Summit Room and The Mayobird to the new spots.
"I want (the people on Morehead) to be our best friends," she said. "I can't deviate from who we are and who we want to continue to be in terms of in the community and a neighbor."