Corning Optical HQ tops out, heads for early 2019 completion
July 24, 2018
By Ashley Fahey | Staff Writer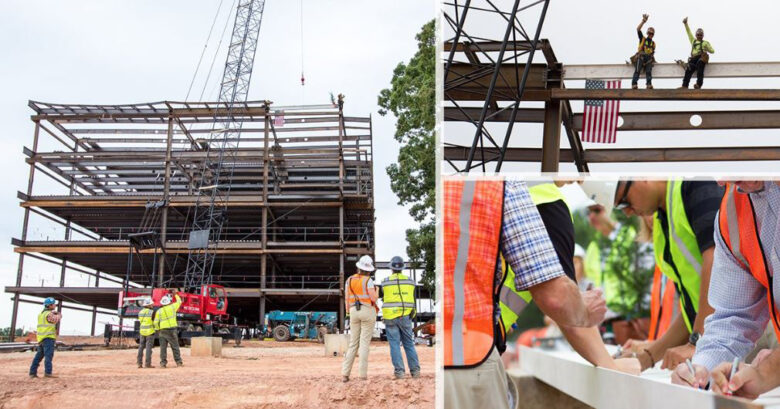 A new headquarters for Corning Optical Communications that will eventually house at least 650 employees has officially topped out.
The six-story, 182,170-square-foot office building is being developed at Riverbend Village, a mixed-use development in northwest Charlotte, by local real estate firm Beacon Partners. Beacon broke ground on the building late last year and says it remains on track for delivery in early 2019.
Corning Optical Communications is relocating to northwest Charlotte from Hickory. The company, a $3.5 billion segment of New York-based Corning Inc. (NYSE:GLW), struck a deal in 2016 with Mecklenburg County to receive up to $750,000 in incentives. The project could be eligible for up to $3.2 million total in local and state incentives.
Steel erection at the headquarters began May 14 and wrapped up last week, according to Beacon. The building's "exterior skin," including View Dynamic Glass (electrochromic windows that automatically tint), metal panels, roofing, site work and landscaping, is next. Corning's building is expected to be LEED certified when complete and will incorporate an all-optical network, which will include Corning's optical fiber and wireless technologies.
Elsewhere in North Carolina, Corning is expanding its fiber manufacturing facility in Concord and its cable facilities in Winston-Salem and Hickory. Corning also opened a fiber-optic cable manufacturing facility earlier this year in Newton that will employ up to 200. Statewide, Corning employs 4,000-plus.
A site plan for Riverbend Village indicates a second building for Corning, measuring about the same size, is planned at the development as a second phase. A spokesman for Corning said Monday the company did not have any further plans to announce regarding a second phase.
Riverbend Village encompasses more than 100 acres at Brookshire Boulevard and Mount Holly-Huntersville Road. Outside of Corning's new headquarters, the project is expected to include retail anchored by Harris Teeter, residential development, a movie theater, hotel and potentially additional office space.
Gensler is the shell building architect for Corning's headquarters. Balfour Beatty is the general contractor. LandDesign is the civil engineer. Regions Bank is providing construction financing.