First Look: Beacon's latest South End project to transform former HD Supply Site
January 10, 2017
By Ashley Fahey | Staff Writer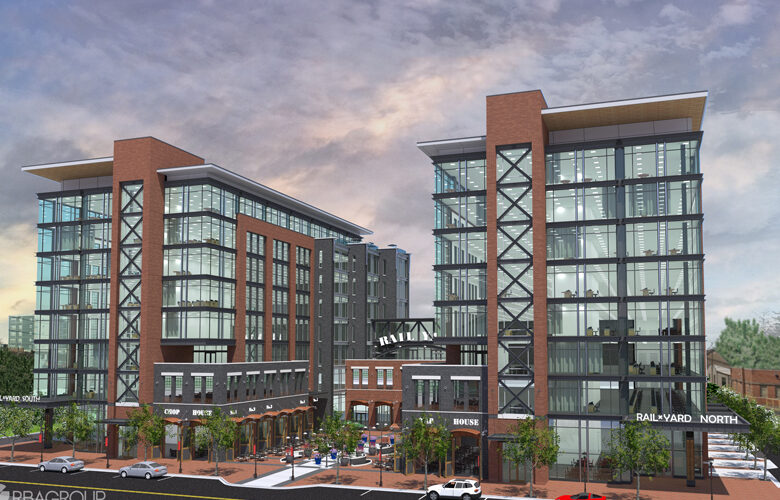 About a year and a half after closing on its purchase of the former HD Supply site in South End, Charlotte developer Beacon Partners has unveiled its plans for the high-profile parcel.
The approximately 3.5-acre block, bounded by Tryon, Bland, Winnifred and Winona streets, will be developed to include two, eight-story buildings with 290,000 square feet of office space, 30,000 square feet of ground-floor retail and 100 apartments. Beacon has named the project The RailYard — intended to pay homage to the area's role in inspiring the construction of Charlotte's first railroad, which arrived from Columbia, S.C., through present-day South End.
Like many South End developments, The RailYard is near the light-rail line widely credited with transforming the area in recent years. It is one block from the Lynx Blue Line's Bland Street Station and sits at the start of the Rail Trail. It's one of several mixed-use projects underway, planned or recently delivered in the urban neighborhood, which has been hot with millennial renters and subsequently is becoming a more significant office submarket. Several office projects are in the works, including Dimensional Fund Advisors' build-to-suit at the former Common Market site, Stiles' project on West Summit Avenue and Vision Ventures' office/retail project at Tryon Street and Tremont Avenue.
"It's a relatively new office market," said Mike Harrell, a partner at Beacon. "There hasn't been a lot developed there. One of the main drivers is all of the young people moving into all of the apartments. A lot of employers are trying to attract young talent and there's no better place to attract young people than South End."
Beacon delivered another boutique office/retail project, 1616 Center, on Camden Road about a year ago, and it has seen success with a wide gamut of tenants.
"With the RailYard, we want to create a unique work environment in South End while also adding public space to reflect the social connections that make South End such a special place to live and work," Harrell said. "We are really excited about everything that is happening in South End right now and think we have a unique opportunity to add to that momentum by transforming this site into a dynamic destination for creative office space, local, authentic retail and restaurants, and popular outdoor entertainment venues."
The brick buildings at The RailYard will feature a "cohesive, contemporary design palette" of masonry, ornamental steel and glass, as well as double-door arched entryways and open floor plans with views of uptown and South End, according to Beacon. Plans also include a 1-acre rooftop park and a central courtyard between the two buildings to act as a gathering place for tenants and visitors.
Charlotte developer and architect David Furman with Centro Cityworks is working on the multifamily portion of the project, including four levels of studio, "loft-style" micro-units as well as street-level space on the side and rear of the property to incubate start-up businesses.
Beacon and Furman met with community leaders last year to hear what the neighborhood sought— Beacon said feedback indicated a desire for design that fit with the neighborhood's character, ground-floor retail and restaurants, and outdoor public space.
Construction is scheduled to begin this summer, with Harrell indicating at least one of the buildings is expected to deliver in summer 2018.
Kristy Venning and Charlie Swanson at Beacon Partners are handling the leasing. The project's architects are RBA Group and Furman.