In five years, Morehead Street will look completely different
February 22, 2016
By Ely Portillo | Reporter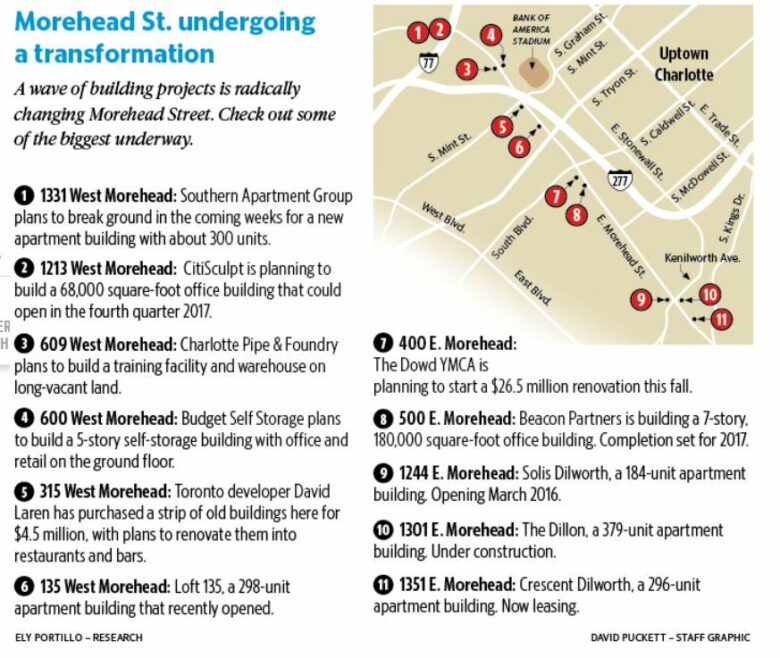 Construction is wrapping up on almost 800 new apartments that are changing the face of Morehead Street – the first wave in a surge of new developments that will reshape the corridor from one end to the other.
A dozen major projects are underway or planned to start soon along the 3.5 mile road that runs south, east and west of uptown. When construction is complete in a few years, Morehead Street will have almost 1,500 new apartments, two new office buildings, a renovated flagship Dowd Y and a strip of revitalized, pedestrian-friendly bars and restaurants within walking distance from Bank of America Stadium.
Morehead Street is close to uptown but has long felt distinct, with East Morehead Street rapidly turning into a suburban enclave and West Morehead Street fading to older industrial buildings. Now, both sides of the street are rapidly becoming more dense and urban.
"We see Morehead as really an extension of South End," said Kristy Venning, an office broker with Beacon Partners who leases the company's Morehead portfolio. Beacon is headquartered on East Morehead Street, where the company is also building a new, seven-story office building.
"I think there's a whole lot more energy coming to that part of midtown," said Venning. The office building at 500 East Morehead will also include a ground-floor cafe and a more upscale restaurant, adding options for office workers to grab a bite without hopping in their cars.
Still, despite the boom, not all planned projects are moving forward. Trinity Capital Advisors told me they've dropped plans to build a 14-story office tower at South Tryon and Morehead streets, which would have been called 1000 South Tryon. Founding partner Gary Chesson said the firm wasn't able to find an anchor tenant for the tower, and didn't want to build on a speculative basis.
"We had the land under contract for awhile and were looking for an anchor tenant. That was necessary for development," said Chesson. "It is a good site. We continue to really like the site. It's just a matter of finding the right fit."
The Midtown submarket, which includes much of Morehead Street, has the lowest office vacancy rate in Charlotte, at 5.4 percent, according to the latest report from Xceligent Karnes. The area also has the fourth-highest rents, behind Uptown, SouthPark and Ballantyne, at $24.65 a square foot.
And it's not just office buildings and apartments coming to Morehead Street. The Dowd Y plans to start work this fall on a $26.5 million renovation to expand the facility that the group announced last year. Budget Self Storage is planning a five-story self-storage facility with office or shops on the ground floor. And Charlotte Pipe & Foundry is building a warehouse and training facility on long-vacant land along West Morehead Street near the Carolina Panthers' stadium.
Changes on the west side
While East Morehead makes up the well-off Dilworth neighborhood's northern edge, West Morehead has long had a different, more grittier reputation. Disused warehouses and industrial property dotted much of the street. But that has changed in the past few years, as hip eateries such as Rhino Market & Deli and Burger Co. join old standbys such as Open Kitchen to breathe new life into the area.
"The perception of the area doesn't match its current reality," said Lindsey McAlpine. He heads two firms, CitiSculpt and Southern Apartment Group, that are building on West Morehead Street. His companies have been in offices on West Morehead Street for about five years – they moved after putting together the land that became Crescent Dilworth apartments on East Morehead Street, which included their former offices.
Now, McAlpine said he expects West Morehead Street will rapidly become a creative-oriented office district, similar to NoDa but with a bit less grunge.
"All of the undeveloped or under-performing real estate has been bought up at this point," said McAlpine. "People that have been around a while are going to say, Wow I didn't know this turned into this.' Some people are going to have a bit of an epiphany."
Toronto-based developer David Laren spent $4.5 million over the past two months buying a strip of single-story commercial buildings at South Mint and West Morehead streets. He plans to renovate them into a row of restaurants and bars, with a chic, "New York and Miami" vibe. Think rooftop decks overlooking the stadium and the skyline.
"It's an awesome location," said Laren. But he said his company will have to work to make the block, which has gotten somewhat rundown, more appealing to pedestrians. He plans better lighting, a refurbished sidewalks and other modifications to make it feel safe.
"Once you have gaps between buildings and it's dark, people feel afraid," he said. Laren is confident that Morehead Street, and its surroundings, are changing fast from when he first started looking for property in Charlotte, however. "It's taken on a different dimension than it was a few years back."