Massive 8-story mixed-use development coming to the corner of S. Tryon and West Boulevard
October 31, 2018
By Jason Thomas | Writer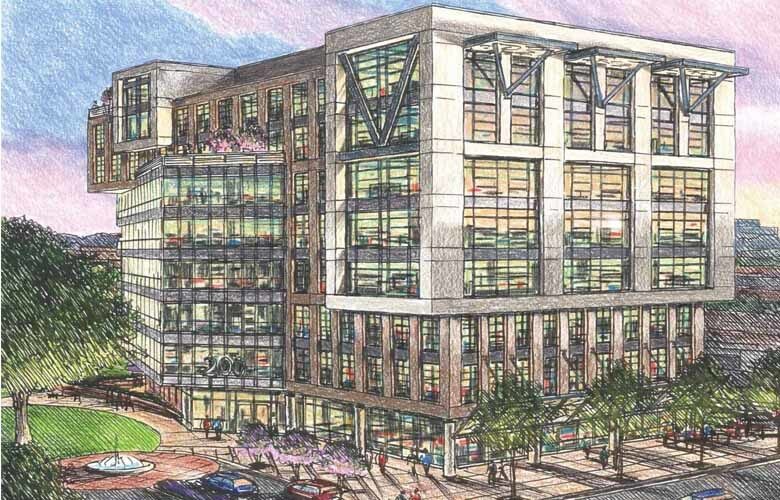 Charlotte Agenda - Common Square, an 8-story mixed-use development from Beacon Partners, is coming to the corner of S. Tryon Street and West Boulevard.
The site is bounded by West Boulevard, Tryon, Hawkins and the future Wilmore Park. It's is the current site of Sauceman's but don't panic; the barbecue restaurant is relocating to a bigger space.
The development will consist of 130,000 SF of office and 10,000 SF of retail, apartment units, a potential boutique hotel and a large outdoor plaza that connects West Boulevard to the future Wilmore Centennial Park.
This is just a TON of uses on a small 1.7-acre site. It's a fantastic use of the land.
The office component will be 8 stories (4 stories wrapping a deck for apartments/hotel) and Beacon has been quietly working with existing landowners who are partnering on this beautiful project.
Additional components of the project include 5,000 SF of indoor/outdoor rooftop event space, kick ass office floors consistent of floorplans ranging from 10k-17k SF and a estimated completion date of 2020.
In speaking with Mike Harrell, a parter at Beacon, I have really been able to see the vision and the vast impact this project will have on not only South End and the Wilmore neighborhood, but all of Charlotte.
It complements the future park, is a block from the light rail, adds even more office and retail to the red-hot South End area and the building's design is just excellent.
Beacon really seems to understand the DNA of the area and looks to incorporate that into all of their projects — adding something new but with character that feels more established. They're also behind The RailYard, my favorite project in town currently under construction in South End.
David Furman is involved with the project (the design has a lot of his great calling cards) as well as Axiom Architecture.
For those that will inevitably freakout about Sauceman's being replaced, relax.
The well-known barbecue joint is relocating to a new, larger and soon to be announced space.
"We're excited about Common Square and the growth and revitalization that continues to make South End a great part of the city to live and work in," said co-owners Adam Rappaport and David Pearson. "We're also excited about the opportunity to expand our restaurant and better serve our customers in a new location that will support the growth in demand we've had for our award-winning BBQ. Until we announce our future plans, we will continue to operate at our current location."
This is a fantastic project and is an indescribable boost to an already booming area.
Design is top notch, the uses are all needed, the pedestrian scale is great and it is excellent use of currently underutilized land. As stated, the next step will be rezoning and once that is approved (it better be), construction will fly to completion in 2020.