Metrolina Park project honors past uses
October 30, 2018
By Ken Elkins | Senior Staff Writer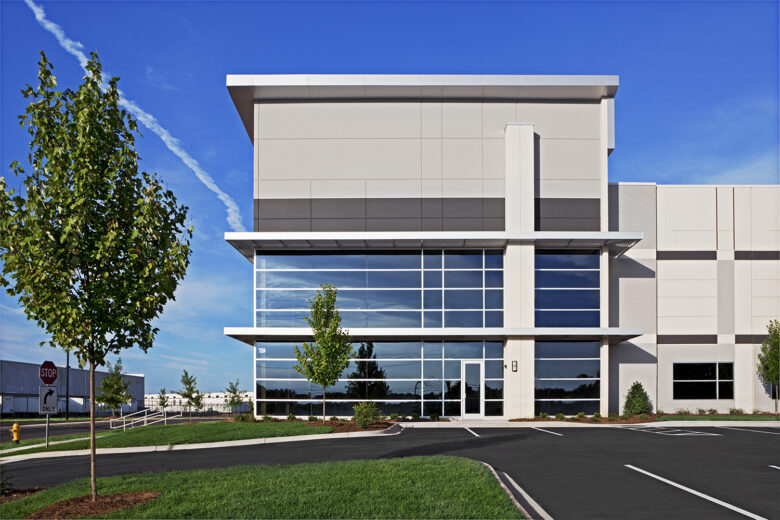 The site used to be a fairground, an airfield and later a mecca for antique furniture and collectibles sales. Now, it is Metrolina Park, a seven-building, 1.75-million square foot, logistics and distribution park that pays homage to its rich past.
Beacon Partners is finishing up development of site, which it bought in 2016. Two buildings on the site have been reused. Two buildings were completed in 2017 and were honored in last year's Heavy Hitters program. Three buildings were finished in 2018 and are finalists in the 2018 competition.
Metrolina Park is located on Statesville Road, about a mile from the Interstate 77 interchange at Sunset Road.
The former owner of the site, Linda Pistone, remembers landing airplanes at a former airfield on there. Later came a fairground. Even later it was home to Metrolina Tradeshow Expo.
Now, signs, other markers and road names use airport and exhibition themes to honor the past uses.
The park is anchored by third-party logistics provider Bonded Logistics. Premium Vision, an affiliate of contact lens retailer 1-800 Contacts, has its Southeast distribution center at the park. A reusable packaging and supply-chain solutions company, Tosca of Atlanta, recently took space in one of the buildings on Expo Drive at Metrolina Park in north Charlotte.
Key Players
Developer: Beacon Partners
Architect: Merriman Schmitt Architects
General contractor: Edifice Inc.
Civil engineer: Orsborn Engineering
By the Numbers
7 - number of buildings
94 - acreage of development
1.75M - total square footage
Biggest challenge?
"The greatest challenge in completing Metrolina Park was navigating between our goals and those of the N.C. Department of Transportation, the Charlotte Department of Transportation and Charlotte Water, to coordinate public streets and utilities. Matt Lucarelli led the Beacon team to start discussions in the spring of 2016. We still do not have resolution. After two-plus years, all parties are working hard to do the right thing and come to a conclusion. However, there is no final arbiter or forum where the stakeholders can work together toward a compromise that addresses each party's reasonable needs, while not necessarily giving everyone what they initially asked for."
— Jon Morris, partner, Beacon Partners