New investment 'a big deal'
May 10, 2016
By Martha Rose Brown | Staff Writer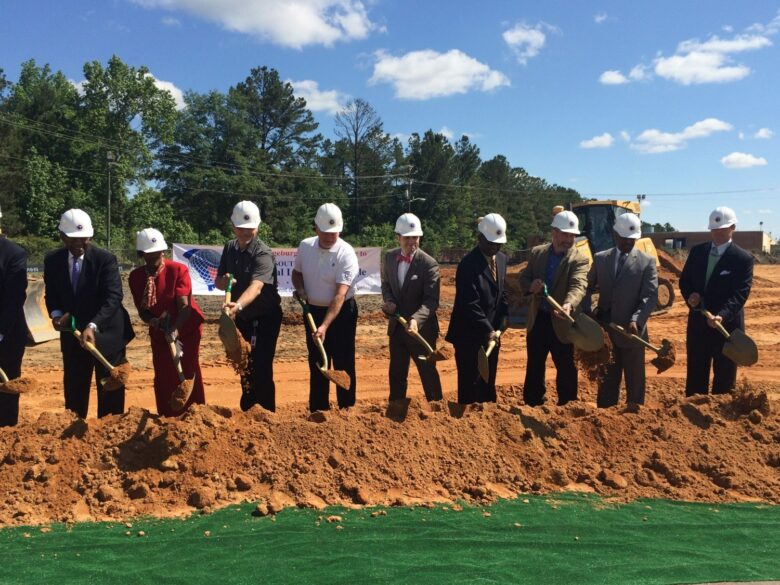 "This is a big deal," Thomas Houser said. "I never thought I'd live to be here this long."
Houser is one of three Husqvarna employees who have been working at the Orangeburg plant since it opened.
"You know, 44 years, that's a long time to be here and I enjoy every minute of it," Houser said.
Houser has been working as a die-setter and driving a forklift for most of his career at the plant, which originally opened as Roper Lawn Mower Co.
On Thursday, the leadership team at Husqvarna joined state and local officials in a groundbreaking ceremony for a 513,000-square-foot distribution and warehouse facility at the Old Elloree Road facility.
Houser said, "Today just blew me away."
He hopes to work in the new facility, which is expected to open in December.

Orangeburg County Development Commission Executive Director Gregg Robinson said, "Husqvarna is a leader in the manufacture of lawn and garden equipment, and they have been an important part of the state's business community for decades."
The new $29.8 million investment will create about 20 to 30 additional jobs.
"Husqvarna plays a major role in who Orangeburg County is," OCDC Chairman Ken Middleton said. It is Orangeburg County's largest manufacturer, with about 2,300 employees.

Husqvarna, with headquarters is in Stockholm, Sweden, has about 14,000 employees in 43 countries across the globe.
"This building could have been built anywhere in the world," Middleton said. He said he and other county leaders are elated that the company chose to continue its investment in Orangeburg County.

"We are grateful that The Husqvarna Group is located in Orangeburg County and continues to grow and support our community. Orangeburg County Council is ready to assist in the most aggressive way we can to ensure the
successes of Husqvarna for years to come," Orangeburg County Council Chairman Johnnie Wright said.
Sen. John Matthews, D-Bowman, said that Husqvarna's investment is an indication of what's in store 
for Orangeburg County in the years to come.
He said, "2016, 2017 and 2018 and beyond will be good years for our community."
Husqvarna's plant now has six production lines for the manufacture of riding lawnmowers, zero-turn lawnmowers, tillers and similar products
Its Orangeburg operations will exceed 1.9 million square feet once the new facility is complete. The addition will include automation to transfer the finished products from the plant's assembly lines to the new distribution center.
"We are very excited about the addition of the distribution center to our Orangeburg operations and the operational efficiencies which will be realized on the integration of this new warehouse facility with the current manufacturing operations," Husqvarna Consumer Outdoor Products President Jeff Hohler said in a release.
He thanked South Carolina, Orangeburg County and the City of Orangeburg for their help.
Ford Graham, the S.C. Department of Commerce director of international strategy and trade, attended the ceremony on behalf of Gov. Nikki Haley and S.C. Secretary of Commerce Bobby Hitt III.
Graham called Husqvarna a "great member of Team South Carolina."
"The Palmetto State continues to enjoy a tremendously successful partnership with Sweden and Swedish-based companies," Graham said.
"Since 2008, South Carolina has received a capital investment from Swedish-based companies totaling 
$750 million and today there are 25 Swedish-based companies operating in the state," he said.
"By investing in South Carolina year after year, Husqvarna is making a statement that the company  continues to invest in our state and its people and we are thankful for them," Graham noted.
Robinson said the investment by Husqvarna is the "largest construction project from a manufacturing distribution site in the entire central South Carolina footprint."
Robinson said October's historic rain event created challenges for the site.
"They're going to have to build the site up significantly, so we're going to have a significant amount of fill that is going to have to be brought into it," Robinson said.
Charlotte-based Beacon Partners is the building developer and InterCon Building Corporation is the building's construction company.
Both companies said they're using local labor to build the Orangeburg facility.