Peek inside the two newest restaurants coming to Morehead Street this summer
June 09, 2017
By Corey Inscoe | Editor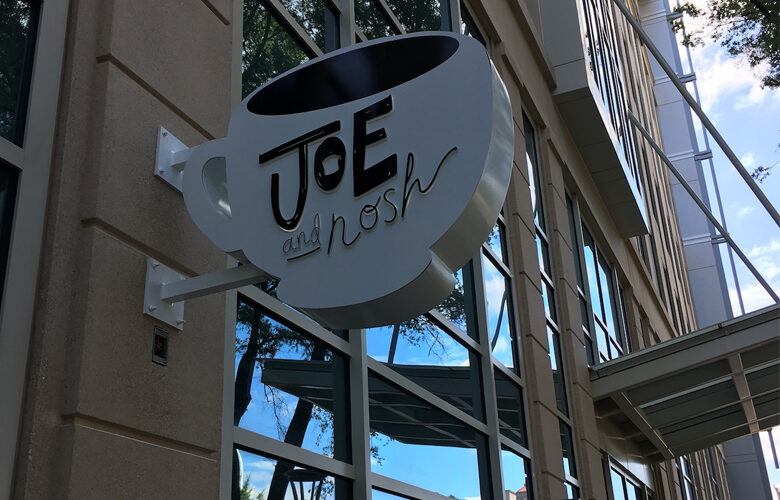 The Packhouse and Joe & Nosh: [Beacon's] 500 E. Morehead St.
When Deedee Mills told me back in November that she wanted to transform a restaurant space in a new office building on Morehead into an eastern N.C. tobacco barn, I was a little skeptical.
But she pulled it off.
Mills, who also owns The Mayobird and The Summit Room, is opening two new restaurants at 500 E. Morehead St. The first is the tobacco barn inspired The Packhouse, which will serve "healthier" Southern fare and open at the end of this month. Joe & Nosh, a quick-serve food and coffee spot with a mid-century modern feel, will open next door in July.
The two spots each represent one of the two places Deedee Mills has spent most of her life: Williamston, where she grew up in tobacco country, and Charlotte, where she's spent most of her adult life.
The Packhouse
The vibe: It seems like almost every square inch of The Packhouse is covered in reclaimed wood — including the bathrooms, where the walls are covered with the exterior and interior of an old school house from Farm Life, a small township near where Mills grew up.
The walls in the actual restaurant and the tin on the "private dining room barn" came from three dismantled packhouses (a building used to store tobacco) from Farm Life.
The bar is made with brick from the foundation of the packhouses and the bar top was made with eastern N.C. tobacco by Artisan Leaf in Wilson, N.C.
The bar is made with brick from the foundation of the packhouses and the bar top was made with eastern N.C. tobacco by Artisan Leaf in Wilson, N.C
The goal: "Bringing Williamston and Farm Life to Charlotte," Mills said. "Any time I could use something from the eastern part of the state I tried to."
The food: Mills and Executive Chef John Brandon are trying to put a healthy spin on traditional Southern food. In addition to fried green tomatoes, shrimp and grits, and deviled eggs you'll find grilled salmon, stuffed bell peppers, and cauliflower ricotta mash instead of mashed potatoes.
The Packhouse will also serve lunch items (like a chicken pot hand pie), brunch on Sundays (chicken and waffles, anyone?) and has bar-only snacks like housemade cracker jacks (complete with a prize) and housemade "nabs" — those peanut butter and cheese crackers, for those not in the know.
Hours: 11 a.m.-"until" Monday through Saturday, and 10 a.m.-3 p.m. for brunch Sunday.
Joe & Nosh
The vibe: Even though it's owned by the same person and located right next door, this spot feels totally different than The Packhouse. White walls with black accents and chrome touches establish a more modern vibe, though a few rocking chairs scattered around give it that bit of Southern hospitality.

Joe & Nosh represents Mills' Charlotte experience, with large photos of the now-closed Charlotte landmark Coffee Cup.

The food: This is more of a grab-and-go spot — coffee, bakery items and quick-serve sandwiches, salads and soups. And breakfast all day.
Hours: 6 a.m.-9 p.m. Monday through Saturday; 8 a.m.-6 p.m. Sunday.
Parking for both spots will be free in the deck behind the building.
All for a good cause.
All four restaurants Mills owns under the Treehouse Kitchen parent company support her nonprofit Behailu Academy, an after-school program that empowers students to "find and use their voices through the arts, academic support and community service."
Keeping with the giving back theme, Mills plans to sell muscadine wine called Cured in the restaurant and other stores. 15 cents per bottle sold will go to a nonprofit committed to finding a cure for their cause.
And her son, Cannon Behailu, will create Cannon's Shine muscadine juice. 15 cents per bottle sold goes to support a nonprofit of Cannon's choice. Cannon's Shine will also be used in The Packhouse's signature cocktail, house dressing and cheeseboard jelly.
Learn more about The Packhouse here and Joe & Nosh here.