Sprouting cranes: The most visible sign of Charlotte's building boom
April 11, 2016
By Ely Portillo | Reporter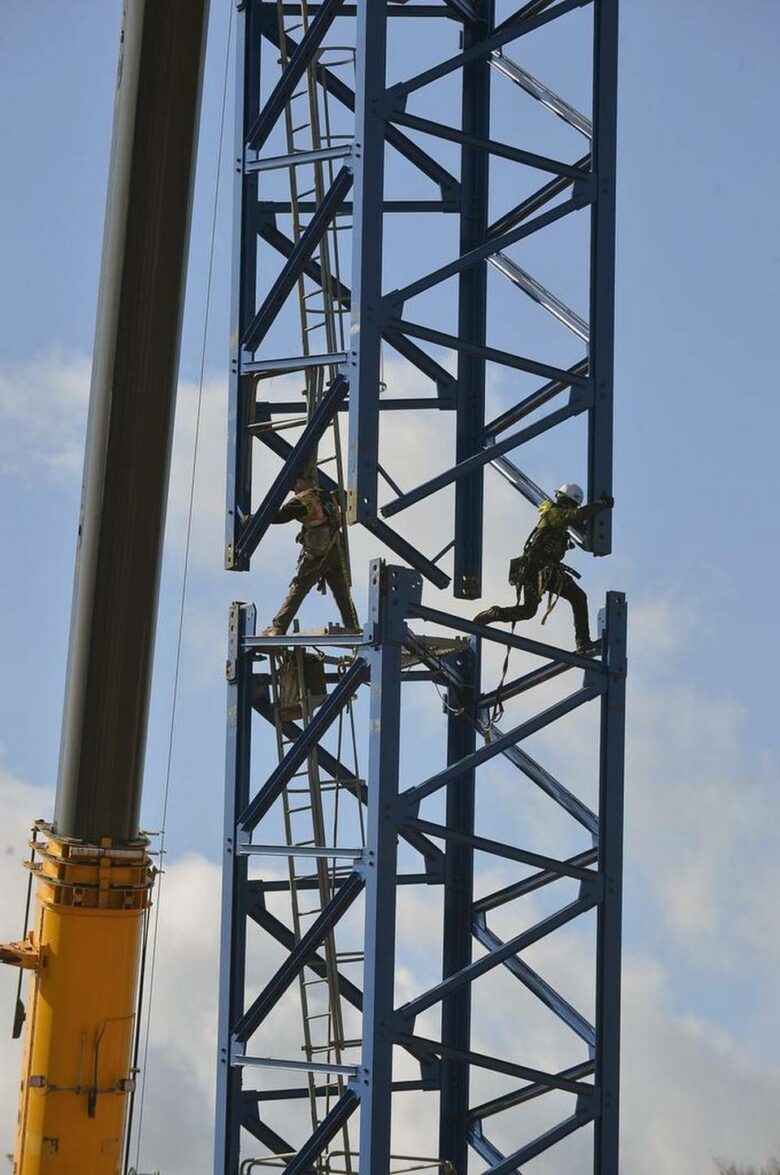 You can see them dotting Charlotte's skyline, poking up between buildings and swinging through the air: Tower cranes, once nearly extinct during the real estate crash, are back in force.
They're one of the most visible markers of a city's commercial real estate market. Tower cranes are essential to building everything from new apartment buildings to office towers, and when you see them multiplying, it's a good sign that building is booming.
Jason Kenna, general manager of Heede Southeast, took me on a behind-the-scenes look at what goes into erecting a new tower crane this week at 500 East Morehead, an office building developed by Beacon Partners and under construction by Balfour Beatty.
"It's a big Erector set, like you played with as a kid," said Kenna. "Except on a much, much larger scale."
Kenna's grandfather founded Charlotte-based Heede Southeast in 1962. The company weathered the post-2007 real estate crash and was able to buy some competitors out of bankruptcy. But the slowdown hurt: In 2006, Kenna said Heede Southeast had 20 tower cranes inside the I-277 loop.
In 2010, Heede Southeast put up one tower crane all year.

"It was crazy. Our yard was slammed full with parked cranes," said Kenna. "It was depressing."
Now, the company's fortunes have improved along with the rest of the commercial real estate market. Heede Southeast is operating eight cranes right now in Charlotte. The company, which operates in cities from Texas to Virginia, is putting up several more in the coming months on projects from uptown to SouthPark. The Crescent Stonewall Station project to build apartments, a Whole Foods and hotels on Stonewall Street will take three cranes, Kenna said.
Setting up a tower crane usually takes about two days, and the company often does the work over the weekend, since it can involve closing streets. That's why cranes sometimes seem to appear almost magically in an office market such as uptown: Workers go home Friday night, crane riggers work Saturday and Sunday, and when everyone comes back Monday morning, there's a new tower crane.
At 500 East Morehead, the Heede Southeast crane will help lift pieces and equipment for a seven-story office tower and parking deck. Sitting at the bottom of a deep pit of red clay, the tower crane's base of concrete and steel rebar beams is sunk more than six feet deep into the ground. That base must support the weight of the crane and the load it carries on its arm – more than 39,000 pounds, for this particular crane.
On Thursday, the crane arrived in sections on the back of a flatbed truck from Heede Southeast's main office in Pineville. An "assist crane" lifted each section into place, pulling the blue steel lattice skyward and carefully maneuvering it into place atop the section below. With ringing blows, workers hammered in bolts to secure the sections together. The horizontal part of the crane is lifted in place in the same way, along with the counterweights that keep the whole thing from tipping over.
Heede Southeast owns the cranes and rents them out by the month to general contractors. The company generally charges $70,000 to $100,000 or so to set up a crane. Depending on the height, a crane can cost anywhere from $18,500 to $30,000 per month to rent, Kenna said.
The whole crane runs off a heavy-duty electrical connection, which allows it to swing and lift loads with little sound and no exhaust fumes. And a "climbing" crane can actually grow taller as a building goes up, with a huge hydraulic lift picking up the top of the crane while the crane operator slides a new section into place below.
A long climb
Rick Adams has been operating tower cranes since 1978. Like the rest of Heede's operators, he will work the job at 500 East Morehead from start to finish, putting in 12-hour days until the crane isn't needed any more and Heede Southeast workers disassemble it.
And like tower crane operators everywhere, he'll get to the top of the 135-foot crane by climbing, one ladder rung at a time.
"It depends, how the bones are fitting together in the morning," Adams said when I asked him how long the climb usually takes. That's usually about 10 minutes – faster if it's cold and windy out. Adams will spend all day in the cab, communicating with workers who attach and detach the crane's loads by radio and moving the crane with a joystick.
"It is a really good view," said Adams. "That's one of the best parts of the job."
The operators don't come down during their shift for breaks, given that it's such a climb. So, if they're up there all day, how do operators take bathroom breaks? Kenna said it involves bottles. I'll leave it at that.
"They're a different breed," Kenna said.
In addition to cramped quarters and the stress of operating an enormous piece of equipment hundreds of feet off the ground, wind is another issue crane operators deal with. The crane at 500 East Morehead is required to shut down when the wind gets up to around 28 mph. The brakes are released and the crane arm swings with the wind, like a weather vane.
Even when the winds are more placid though, the crane sways.
"People don't realize how much these move," said Kenna. The cab can sway three or four feet at a time, especially on taller cranes. "The wind's blowing, you've got a heavy load, it's moving, constantly moving."