STIR — a restaurant, oyster bar and cocktail bar with an "ice chef" — is coming to South End's RailYard
August 15, 2019
By Katie Levans | Co-Founder and Creative Director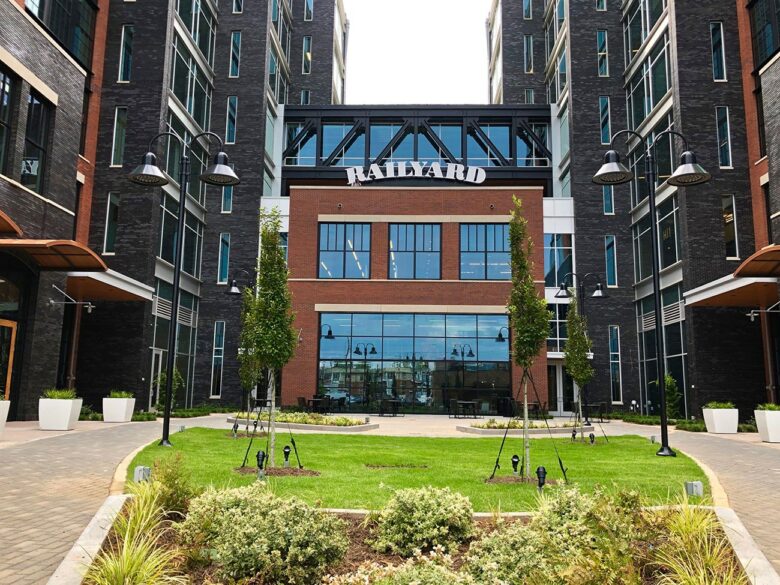 STIR, a new restaurant with a strong cocktail program featuring 350 spirits and an in-house "ice chef," is coming to South End.
The restaurant and oyster bar with a flagship in Chattanooga and a newly opened location in Raleigh has leased space at the RailYard on South Tryon.
STIR joins a growing lineup of retail tenants at the transformational mixed-use development, including OrangeTheory, Rhino Market, North Italia and Bishops.
via STIR Chattanooga
The restaurant will serve lunch, dinner and Sunday brunch along with fresh oysters from their signature raw bar.
Outdoor seating will be available in the 15,000-square-foot community area known as "The Yard."
For an idea of what to expect in terms of selection and pricing, here's a look at the dinner menu at the Raleigh location that just opened in June. See all the Raleigh menus here.
via Stir Chattanooga
STIR takes craft cocktails seriously with more than 350 spirits available and a fancy ice in-house ice program.
The drink menu in Raleigh features 17 signature cocktails priced $9.50-$13, including barrel-aged cocktails and $1 mimosas on Sunday. (Let's see if that mimosa deal makes its way to Charlotte.)
Here's a look at the signature cocktails in Raleigh. See the full Raleigh drink menu.
But the main attraction behind the bar at STIR is their elaborate in-house ice production managed by an "ice chef."
According to the Raleigh website, "Frozen from the inside out using purified water, STIR's artisan ice melts at a slower pace so your drinks stay colder and stronger for longer."
They start with huge 300-pound blocks of ice that are hand cut into seven different styles specially suited for different drinks, including cubes, spheres, crushed, shaved and pebbled.
via STIR Chattanooga
With STIR's lease completed, the RailYard has one restaurant space left — just under 3,000 square feet in the South Tower. Stay tuned for more as STIR and other tenants move forward with build out.