These buildings that are changing Charlotte's skyline reached a key milestone Friday
June 11, 2018
By Ely Portillo |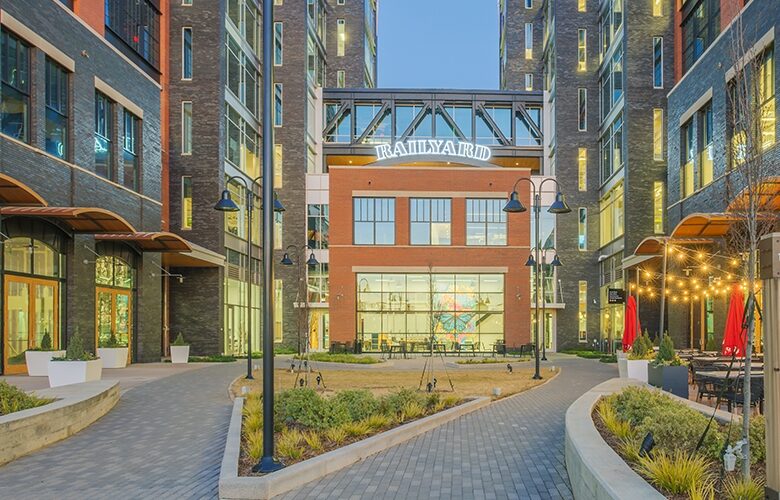 A pair of buildings that will extend Charlotte's skyline a little farther south reached a construction milestone Friday, marking the completion of vertical construction.
The RailYard development "topped out" with a small ceremony where workers signed a commemorative rail tie, symbolizing the highest beam. The buildings, under construction by general contractor Edifice, have shot up quickly, from a site where work had barely started six months ago to their current eight-story height.
The RailYard is the latest development in South End to add to the area's skyline, as a series of midrise buildings push south of Interstate 277 and developers seek to make the neighborhood along the Blue Line denser. A block away, another eight-story building for Dimensional Fund Advisors is taking shape where Common Market once stood, and several other office buildings are planned or underway nearby. And a 165-foot residential building was approved in February for a site at Doggett and Hawkins streets.
The RailYard will total almost 300,000 square feet of office space, along with 30,000 square feet of ground-floor shops and restaurants and a courtyard between the buildings that will feature outdoor dining and events. The development also includes 100 "micro apartments" to be built on the rear of the buildings. The office buildings are planned to be complete in the first quarter of 2019, and the apartment building will start construction around that time.
EY (formerly known as Ernst & Young) has said it plans to bring hundreds of employees to the RailYard as part of a "Wavespace" location focused on innovation and new technologies.
Beacon Partners purchased the 3.5-acre site at South Tryon and Bland streets in 2015 for just over $10.1 million. The company demolished the industrial warehouses, including HD Supply, that occupied the block, to make way for the RailYard.