A neighborhood seeing (Lo)So much change
May 05, 2023
By Lindsey Banks | Staff Writer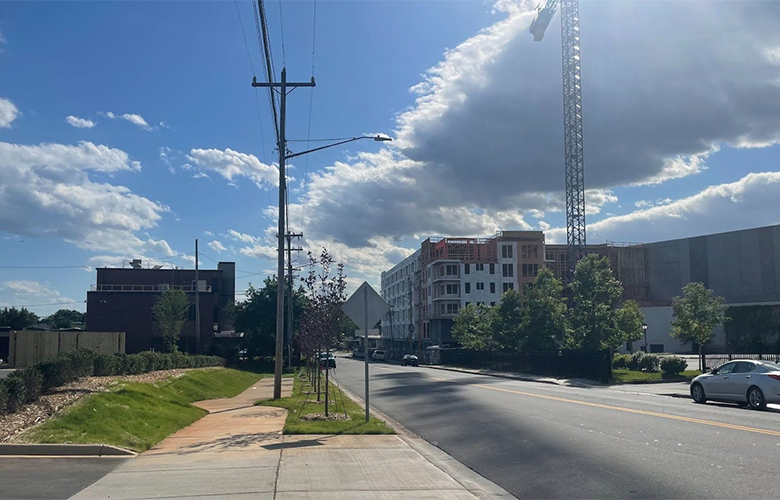 Construction projects are scattered all over the LoSo neighborhood, as captured in this photo taken from Yancey Road, just across the street from Olde Mecklenburg Brewery. The area is expanding with apartments, breweries and businesses and has established itself in the last 5 years as an entertainment hotspot. 
One sunny spring day after work this week, friends and couples met at Olde Mecklenburg Brewery to grab beers, while others shared dinner and cocktails less than a mile up the road at the just-opened restaurant State of Confusion. Some neighborhood residents strolled by with their dogs, while others hustled to their apartment buildings after getting off the light rail at the Scaleybark Station.
Welcome to Charlotte's Lower South End — better known as LoSo — which has transformed in recent years from an industrial warehouse district with little recreational appeal to one of Charlotte's destination neighborhoods that's a hotspot for apartment living and after-hours fun.
Despite its name, LoSo is not just a jump across the South End neighborhood line. It lacks a definitive boundary, but it's generally defined as the area between South Tryon Street and South Boulevard, from Clanton Road to the north to Woodlawn Road to the south.
LoSo, or Lower South End, sits a few miles southwest of uptown.
LoSo has a unique mix of places to eat, drink, shop and play: breweries like Protagonist, which sells 20-inch pizzas for $34, and Charlotte staple Olde Mecklenburg Brewery. There's the popular barcade (a bar/restaurant with arcade games) Queen Park Social, the upscale State of Confusion restaurant and the German-based Gilde Brewery, which opened its first U.S. location in LoSo in February 2022. Also in the mix are an escape room business called Escape Tactic and the enormous Sleepy Poet Antique Mall, which attracts treasure hunters 363 days a year (it's closed only on Thanksgiving and Christmas). 
Gilde Brewery applied earlier this year to make LoSo a social district, which would mean people could buy alcoholic drinks at local establishments and walk the sidewalks within a set area while sipping their drinks. 
According to census data, the tract that includes the LoSo area had 766 residents per acre of land in 2020 — a jump from 2010, when there were 539 people per acre.
'It's here now:' John Marrino, owner of Olde Mecklenburg Brewery and Biergarten, saw the LoSo vision almost a decade before it became a reality. Olde Mecklenburg Brewery opened its first location on Southside Drive in March 2009, when Marrino recalls that land was cheap, and there were few places in south Charlotte zoned for a brewery. 
In 2012, he decided to move and expand. He bought land on nearby Yancey Road for a reasonable price and added an expansive outdoor biergarten. Growth in the area during the first 10 years of his business was slow, he recalls. 
But now, it's anything but slow. 
"We're going to see more change in the next 24 months than we saw in the last 24 months, just with all the construction that's going on around us," Marrino said.
In recent years, warehouses have slowly been replaced by apartments, and Marrino says that from his vantage point, it wasn't until the last five years that LoSo exploded. 
"I said, from a long-term view, it's going to grow around us," Marrino said. "Well, it's here now."
LoSo resident Brantley Weeks has lived in the neighborhood for seven months. Weeks, 33, lives in an apartment across from the Scaleybark Station and takes the light rail every day into uptown for his job.
Although his proximity to the light rail stop is convenient for his commute, it wasn't what initially drew him to LoSo. 
"I love breweries, and the breweries are accessible," Weeks said. "I'm excited to see what's going to move in with all this new construction everywhere." 
Chattanooga-based State of Confusion opened around the corner from Weeks' apartment on Dewitt Lane last month. Manager Jameson Putnal told The Ledger that he hopes the addition of State of Confusion to LoSo encourages other businesses to move in.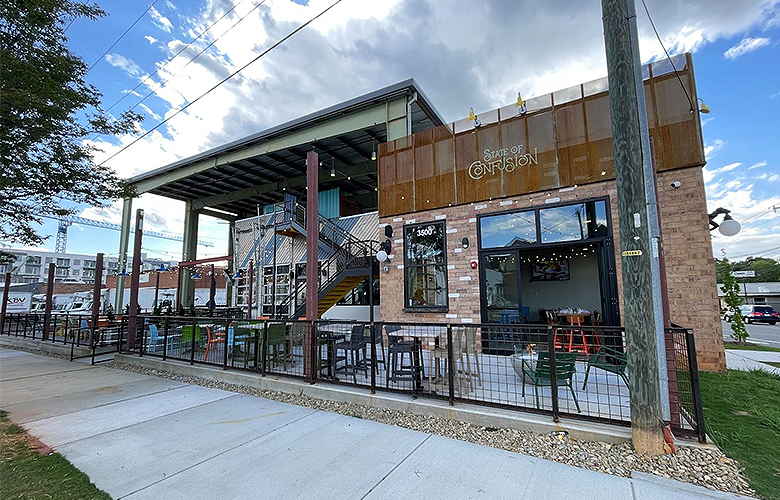 Chattanooga-based restaurant State of Confusion opened on Dewitt Lane in LoSo on April 17. It boasts a rooftop dining area and a menu that includes dishes from Peru, New Orleans and the Carolina Lowcountry.
The area's potential is what drew State of Confusion to LoSo, Putnal says, and the restaurant's industrial and "weathered" exterior was designed to honor the neighborhood's history as a warehouse district. 

Another example of developers' domination? Announcements of new restaurants, bars and businesses opening in the area capture the excited attention of media and area residents, but not everybody sees the development as purely positive.
Across the street from Olde Meck sits Protagonist Brewery, which has been in LoSo for about three years. Charlotte native Matt Davis, a manager at Protagonist, says he worries the city's artistic roots are disappearing as businesses from out of town take over not just LoSo, but Charlotte as a whole. 
"As a native who spent all my life here, when they started painting over the graffiti — money from out-of-state has come in and carved away everything that mattered to the locals," Davis said. Developers "slapped some breweries in, which are fine if you have the money, but it costs $200 a night to go out."
He says he believes Charlotte has become a "pay-to-play city," and he worries that visitors and people moving in from other parts of the country aren't aware of what's happening to the city's roots. 
"The pandemic gave fertile ground for wealthy, out-of-town people to come in and carve up the artistic parts of the city," Davis said. "Someone from out of town might look at these businesses and think, 'Oh, they're small businesses.' These are created by investors. These aren't small business romance stories."
'LoSo' was almost a no-go: Settling on a name for the neighborhood didn't come without some controversy. 
Marrino of Olde Meck recalls a push several years back to call the area "Queens Park," but he was a staunch advocate for "LoSo," which he argued was short and catchy — like NoDa in north Charlotte. 
The naming drama caught fire in local media, with Axios Charlotte (then Charlotte Agenda) publishing an opinion piece in 2016 with the ranty headline: "LoSo: The death of neighborhood names in Charlotte." 
The Charlotte Observer's Charlotte Five had its own take in 2019, calling LoSo "a generic, soulless neighborhood name."
Lindsey Banks is a staff reporter for The Ledger. Reach her at lindsey@cltledger.com