Beacon Partners, Crescent Communities, Fortius partner on large industrial park off Interstate 485
January 26, 2023
By Collin Huguley | Staff Writer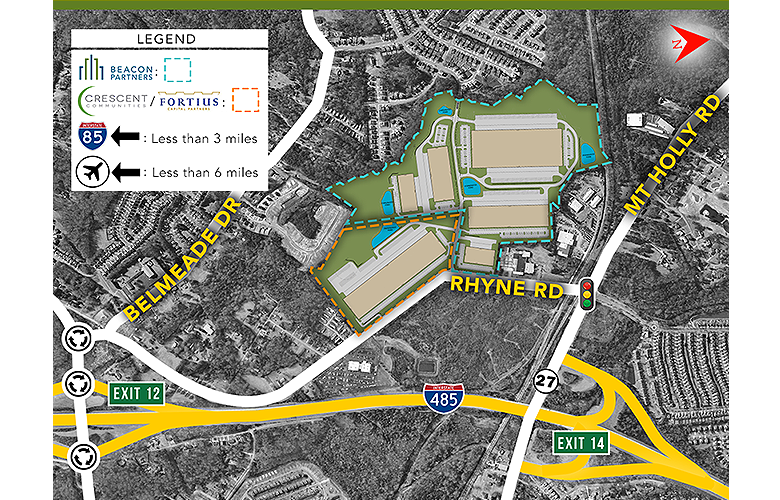 Several notable developers based in the Charlotte area will have a hand in a large industrial park heading to western Mecklenburg County.
Last week, Charlotte City Council approved a rezoning request from Beacon Partners and Crescent Communities for a large site off Rhyne Road. The land will be developed into a new project called Rapid Commerce Park, which will include several buildings and up to nearly 1.8 million square feet of industrial space. Concord-based Fortius Capital Partners is also involved in the project.
Pete Kidwell, industrial partner for Beacon, said the project site still must be annexed into the city — a process that will likely take four to six months. The developers plan to start site work on Rapid Commerce Park in the third quarter, under that timeline.
The project site is just off Exit 14 of Interstate 485 and spans 137 acres. Its size and proximity to I-485, I-85 and Charlotte Douglas International Airport lead the developers to feel that it presents a rare opportunity for new development in the Charlotte market.
"It is incredibly challenging to get any site within the city and to get one of this scale and be able to master-plan a park is something we'd love to do multiple times over and I don't know if we'll be able to do it in the future," Kidwell said. "I just don't think there is this much undeveloped land together."
The developers collaborated on the entitlement and infrastructure process for Rapid Commerce Park, but projects within it will be separate.
Crescent and Fortius Capital Partners are working together on a joint venture for an approximately 448,000-square-foot speculative industrial building at the new industrial park. That building is being targeted for completion in the second quarter of 2024. Beacon will lead development of the remainder of the buildings at Rapid Commerce Park.
Beacon will begin at the park with speculative industrial buildings of around 270,000 square feet and 66,600 square feet, respectively. Those are both targeted for a second-quarter 2024 delivery. After that initial phase, Beacon will have three industrial sites remaining that can accommodate buildings ranging from 90,000 square feet to 474,000 square feet.
"We're seeing a ton of demand and not enough supply on the smaller tenant side," Kidwell said. "Anywhere from 40,000 square feet to 200,000 square feet, we are seeing great demand. We think that this product delivers right into that lack of supply, the need of the market."
Plans include a 4-acre dedication to Mecklenburg County Parks and Recreation for a future park at the site. There is a plan for a network of trails on the western side of the project site as well. Other infrastructure improvements include work to enhance Rhyne Road and the entrance area of the project.
Beacon's project team for Rapid Commerce Park includes Orsborn Engineering Group and WGM Design.
On the Charlotte Business Journal's most recent list ranking the area's largest commercial real estate developers based on activity in the last five years, Beacon came in at No. 1 and Crescent ranked No. 3. While they are both among the Charlotte market's most active developers, Fortius Capital Partners has also recently been building up its industrial pipeline in the region.
Beacon's industrial portfolio is headlined by Carolina Logistics Park, which includes millions of square feet of space in Pineville. It also developed Metrolina Park in north Charlotte before selling it in 2020 after its completion. Rapid Commerce Park gives the developer another large industrial park in the area.
Crescent is active with developments across a variety of uses, but launched a new industrial brand just last year. Among other projects, Fortius Capital Partners is leading the redevelopment of the former Kannapolis Intimidators stadium site into a new industrial park.