Beacon Partners fully leases newest industrial building at Carolina Logistics Park in Pineville
March 21, 2023
By Collin Huguley | Staff Writer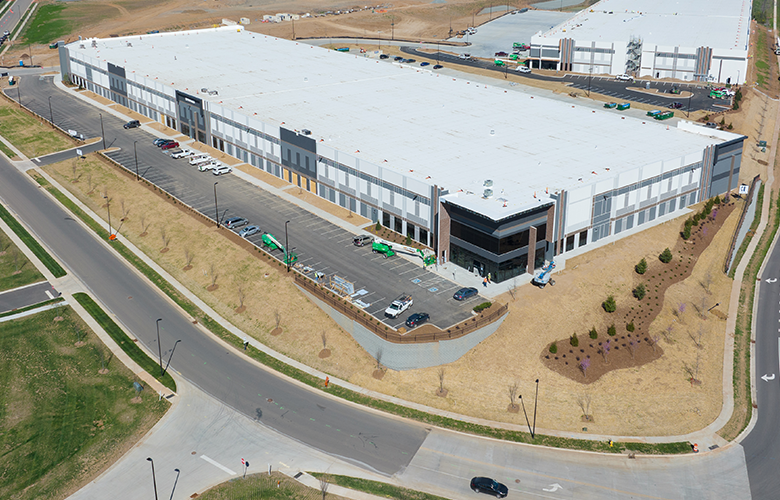 Beacon Partners is continuing to carry out its ambitious industrial vision at Carolina Logistics Park in Pineville.
The developer has fully leased the 202,403-square-foot Building 2 at the massive industrial park to several tenants. The building is located at 12004 Carolina Logistics Drive and was previously announced as the new operations base for Elnik Systems, a furnace manufacturer based in New Jersey. Elnik is occupying a 52,867-square-foot space there and is one of four tenants at the facility.
The other tenants at the building include ProSource, a plumbing supplies distributor that is leasing 54,694 square feet, and pet toys distributor VIP Products, which is occupying a 54,605-square-foot space. E2I Solutions, a multifamily and senior-living lighting supplier, has signed on to establish a 40,237 square-foot distribution operation at the building.
Beacon began construction on Building 2 last year, touting it as an asset that could attract tenants in the 50,000-square-foot to 200,000-square-foot range. Construction was completed on the building last month. It includes 32-foot clear heights and a full concrete truck court.
"Premier tenants like these are drawn to Class A industrial space with access to the interstate systems, an established workforce and area amenities," said Tim Robertson, industrial partner at Beacon Partners. "We believe Carolina Logistics Park delivers on all of these needs, and we're excited to add these companies to the location."
Beacon's project team for the building included The Conlan Co., Merriman Schmitt Architects and Orsborn Engineering Group.
JLL's Jay Hill represented ProSource in its lease deal at Carolina Logistics Park. David Hanna of Foundry Commercial represented VIP Products in that transaction. Bradley Dunn of Stream Realty Partners represented E2I Solutions. JLL's John Cashion, along with Hill, represented Elnik Systems. Robertson heads up leasing efforts at Carolina Logistics Park on behalf of Beacon.
Beacon is continuing to work on completing more buildings at the 288-acre Pineville industrial park.
The developer recently delivered a 525,624-square-foot speculative building at 11925 Carolina Logistics Drive. Another building of 173,748 square feet will soon be completed at 12012 Carolina Logistics Drive. Beacon has landed several major tenants at the industrial park already, including Amazon.com Inc., which operates a facility of more than 1 million square feet there, and Carolina Foods.