Beacon Partners gives local artist free reign to make LoSo Village stories larger than life
August 11, 2020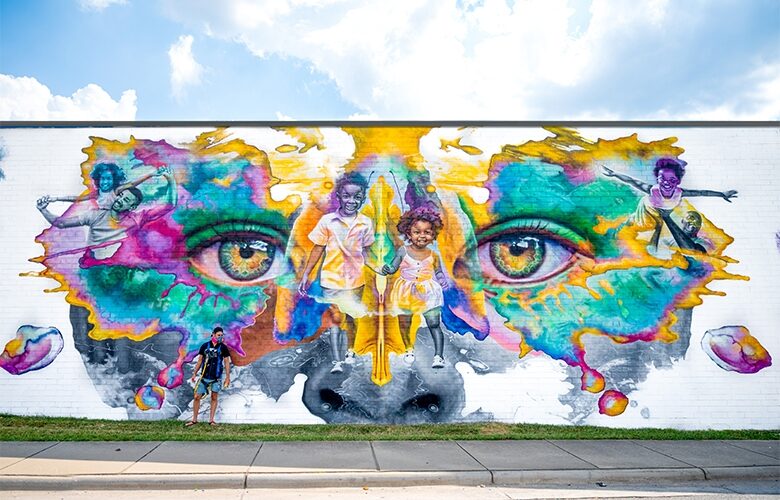 CHARLOTTE, N.C. (August 10, 2020) – When Beacon Partners purchased six single-story buildings near the corner of South Boulevard and Clanton Road last year, they were inspired by the knowledge that each building had its own story to tell. Now the stories are literally coming "out of the woodwork," starting with a larger-than-life mural imagined and created by artist Nick Napoletano. Bursting with the intense rainbow of colors that comes from applying spray paint to brick, the magical mural is designed to spark a conversation to drive dynamic change.
"If you have a massive wall, you should be saying something," Napoletano said. His message on this one speaks volumes about how "equity is everything." Every inch of inspiring mural communicates a positive portrait of black families and black children. It features an aspirational girl looking up at her 4-year-old self, strong, intelligent and happily living a rewarding life.
 "The piece is meant to challenge us to continue to find hope," explained Napoletano. "To try and show us all amidst the turmoil and polarity what really matters. To see the soul that resides in every human being and remind us that we were all children once. To be good and moral people, and do our best to find empathy for others, especially now." 
The six-building complex, named LoSo Village, totals 52,690 square feet of mixed-use space and provides tenants with direct access to the LYNX Scaleybark Station. It's adjacent to LoSo Station, a 500,000-square-foot mixed-use project also marketed by Beacon Partners. The company is repurposing the old buildings into intriguing spaces for creative office and retail, capitalizing on the synergy of having multiple buildings close to each other within a confined geography. Beacon hopes that future tenants commission more murals at the project.