Beacon Partners signs Salata Salad Kitchen, Sweat Method, Mythic as first tenants for The Station at LoSo
November 16, 2022
By Jennifer Thomas | Senior Staff Writer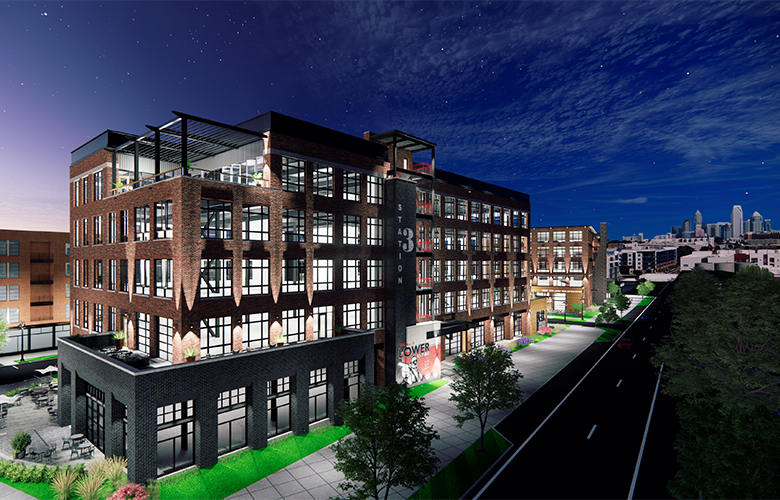 Beacon Partners has signed its first tenants to The Station at LoSo. Salata Salad Kitchen, Sweat Method and office tenant Mythic are set to join the lineup as part of Station 3.
It's one of two five-story, roughly 100,000-square-foot buildings that make up The Station at LoSo. There's about 30,000 square feet of retail space available on the ground floors of those buildings.
The project is situated on South Boulevard at the Scaleybark light-rail stop.
Mythic has snapped up 7,000 square feet of office space. The Charlotte-based full-service marketing and advertising firm was named one of the fastest-growing agencies by Ad Week in 2019. It works with Fortune 100 clients including Ally Bank, MetLife and Spectrum.
The Station represents an emerging location with amenities and convenience for the brand, says CEO David Soliday.
"Mythic is excited about the opportunity to reimagine its headquarters at The Station," he says. "The building's forward-thinking design was ideal for a space that truly embraces the new workplace reality — one that puts flexibility, creativity and collaboration at the forefront of our culture."
For Salata, the space marks franchisee Free Fenix's third location in Charlotte. The 2,600-square-foot space will dish up fully customizable salads with a variety of bases, wraps and soups as well as organic teas and lemonades. Over 50 fruit and veggie toppings are chopped daily, with lean proteins prepared in-house as well.
The Station's design, combined with growth in lower South End, made it attractive for the brand, says Julie Davis, vice president of franchise development for Salata. It expects to open late in the second quarter of 2023.
Sweat Method has nabbed a 3,000-square-foot space on the ground flood of Station 3.
The Charlotte-based fitness concept was founded in 2019, offering high-intensity interval training and low-intensity interval training options.
It will move from its location at 1430 Winnifred St. next year. It is targeting a May 2023 opening.
"It is difficult to ignore all of the quality retailers who have elected to open in this corridor," says Justin Gordon, coach and co-founder.
The mix of uses at The Station complements the office component and allows it to be an 18-hour neighborhood versus a commuter destination, says Erin Shaw, managing director of investments with Beacon.
"Our hope is to create a sustainable, long-term community where tenants and employees engage in the space around them outside of their physical office," she says.
Roughly 85,000 square feet remain available at Station 3, including 8,000 square feet of retail space. Advanced discussions for 20,000 square feet of office space and a 4,000-square-foot restaurant are underway.
No tenants have been named yet for Station 4, which has 87,000 square feet of office and 17,000 square feet of retail space.
Both buildings have a traditional rectangle floor plate, which makes it ideal for a multitude of layouts. There are two outdoor terraces on each floor as well as ground floor terraces and park space.
"This allows us to design each space tailored to the layout of each company, which we expect will attract a wide range of profiles as we have seen in our leasing so far," Shaw says.
The Station at LoSo is situated within a 15-acre master-planned development. It includes 350 luxury apartments as part of MAA LoSo and Land of a Thousand Hills Coffee Shop. 
The mixed-use development is within walking distance to the Rail Trail, light rail and the newly built restaurants at LoSo Village. 
The Village is home to Gilde Brewing and Weathered Souls Brewing Co., which recently opened. Other announced restaurants include Yama, Phat Burrito, Everyday Market and State of Confusion, which are expected to open in spring 2023.
Salata was represented by Julie Gardner at Katz & Associates. Chris Schaaf and Ross Howard of JLL represented Mythic. Sweat Method was represented by Kaitlyn Fitch of CBRE and Casey Sherman of Colliers. 
Charles Thrift and Thompson Brock of Thrift Commercial Real Estate represented the landlord on its retail leases with Salata and Sweat Method. Claire Shealy and Shaw of Beacon Partners represented the landlord on its lease with Mythic.