Beacon Partners' The Station at LoSo development targeted for early 2023 completion
October 14, 2022
By Elise Franco | Staff Writer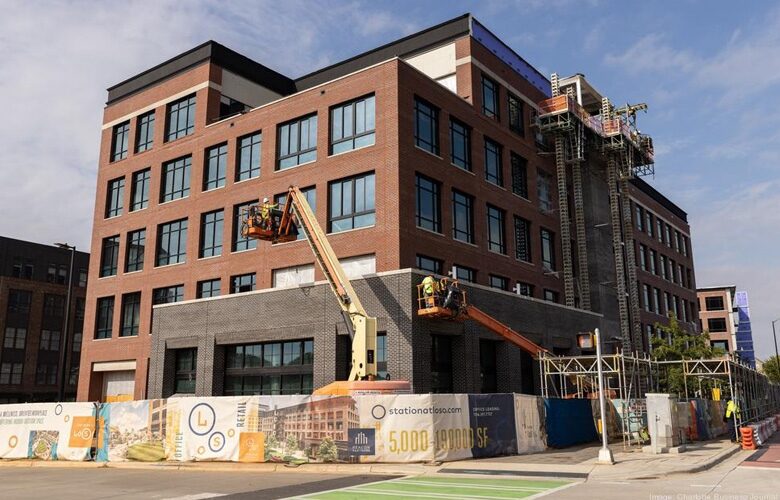 Beacon Partners' Erin Shaw says leasing at The Station at LoSo is about to ramp up as the mixed-use development nears delivery.
Shaw, managing director of investments for Beacon, told Charlotte Business Journal this week that the office and retail project at 3600 South Blvd. is set to deliver in the first quarter of 2023. The Station at LoSo has 200,000 square feet of combined space, including 25,000 square feet of indoor and outdoor retail across two five-story buildings and a 3,000-square-foot shared green space. 

Shaw declined to disclose the total project cost. 
Office upfits will begin in December with a goal of moving tenants in during the second quarter. Shaw said no leases have been signed yet, but she expects to have several finalized and ready to be announced in the next few months on both the office and retail side. Most of the companies showing interest in the project are local, she said. 
"Office has actually picked up, post-Labor Day, and we're close to deals for several 8,000- to 10,000-square-foot deals, which would be half-floor spaces," she said. "Most of the groups we've talked to have been in various creative fields, development and construction fields, groups whose focus is not necessarily on being adjacent to the CBD and are really more focused on quality of space, ease and access for their commute and reinvesting in their office layout post-Covid." 
Shaw said one unique thing about the project, compared to some other recent developments, is the inclusion of outdoor terraces on each floor that are enclosed overhead, making them usable year round. Each building also has interior and exterior staircases. These elements have been attractive to prospective tenants during lease discussions, she said. 
"The majority are connected to interior with overhead glass doors, so you're able to enjoy the outdoor space, regardless of the weather. Being able to activate that as a full-time practice is one of the most unique things we have, and I have not seen that elsewhere," she said. "The benefit of designing in the middle of Covid is that we could focus on those healthy elements. We have exterior staircases on each side so tenants can go directly to their floor, versus having to go to a core staircase inside the building." 
Beacon is also working on plans for the development of a site just south of The Stations at LoSo, at 3800 South Blvd. 
"We control a 6-acre site that we're in the design process for, creating a fairly similar use where we'd have some office and multifamily with a large activated green space," Shaw said. "We haven't finalized a timeline on that project yet."