Carolina Foods signs long-term lease for Pineville with plans to move from South End
July 28, 2022
By Jennifer Thomas | Senior Staff Writer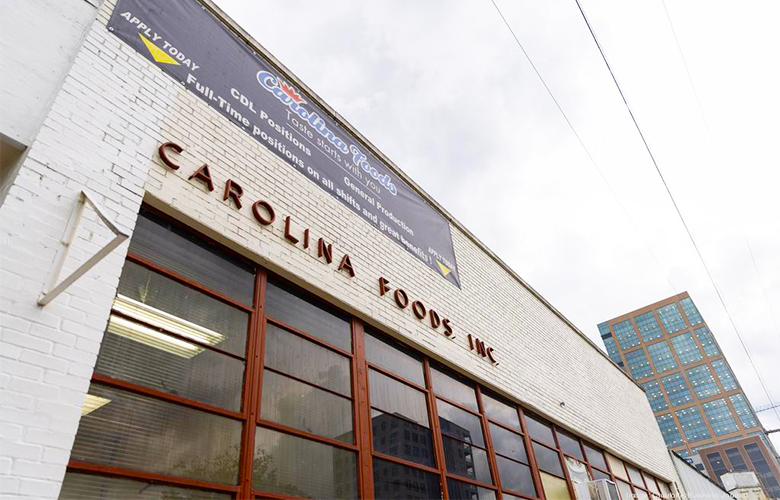 Carolina Foods will more than double its operations with a move to Pineville and an eventual exit from South End.
The sweet-treats producer — known for Duchess Brand products, including Honey Buns — has signed a 15-year lease, with the possibility for multiple extensions, says CEO Dan Myers.
It has taken 40.7 acres at Beacon Partners' Carolina Logistics Park. Plans call for a 423,000-square-foot, build-to-suit facility at 12031 Carolina Logistics Drive.
"We're basically doubling the space," Myers says. "We're going to make a lot of Honey Buns, doughnuts and pies."
Carolina Foods expects to begin pushing dirt for that facility by the middle of August. The facility will have 250,000 square feet of processing space, 14,000 square feet of warehousing as well as office and employee space.
"We're targeting the end of 2023 to have product coming off the line," Myers says.
He declined to share Carolina Foods' proposed investment into that facility.
The company currently operates a 100,000-square-foot manufacturing facility at 1807 S. Tryon St. It has another 100,000-square-foot warehouse in South End.
Myers said Carolina Foods has a lease for the South Tryon Property property, which will eventually close. Commercial Development Holdings LLC owns that 3.6-acre parcel. Paul Scarborough — one of Carolina Foods' founding family members — is listed as registered agent for that holding company. He did not respond to a request for comment.
The Carolina Foods site has been eyed as a redevelopment target for years.
Myers says the Pineville site is ideal, given its proximity to Charlotte. The location is ideal for the current 300-plus employees — and stands to draw from the surrounding market for future hires. The site is half a mile from the light rail. It's also ideal logistically, with access to interstates 77, 85 and 485.
"We were thrilled to find a site so close to Charlotte," Myers says. "We're in an exciting time in our industry where we believe this expansion has come to its fruition."
Carolina Foods has been a fixture in the community since 1934. It produces Duchess Brand snacks and is the creator of one of America's first honey buns. The Charlotte-based pastry manufacturer's sweets also include baked pies, fried pies and gem doughnuts.
Charlotte private-equity firm Falfurrias Capital purchased it in March 2021.
Myers says expansion is critical as Carolina Foods has more demand for its products than capacity. It currently has three business segments: Duchess products, private-label manufacturing for retailers and contract work for large, national brands.
"We are constrained by space in our current location in South End. We cannot increase our capacity while staying there," Myers says.
The move will allow for a "significant" increase in production.
"We're pursuing our growth plan," he says. "We believe our industry needs our increased capacity and our ability to innovate new products. We felt like there's no better time to take advantage of that than now."
Whiting-Turner Contracting Co. is the general contractor on the project. Stellar Group is the architect.
Carolina Foods was represented by Keith Bell with Cushman Wakefield and Bailey Patrick and Bailey Patrick Jr. with MPV Properties.
Pete Kidwell, Tim Robertson and John Core represented the landlord.
"Their selection of the park affirms its unparalleled access to distribution networks and to a deep labor pool," Kidwell says.
Beacon's 288-acre project is expected to include up to 3.6 million square feet of industrial space upon full buildout.
Amazon announced its facility there in April 2021; it opened in the third quarter that year. Beacon's plans to develop the park were approved by the town of Pineville in July 2020, and the Charlotte-based developer bought the land for the project in September 2020.