Chatham project topping 1M square feet comes into focus
January 04, 2023
By Evan Hoopfer | Staff Writer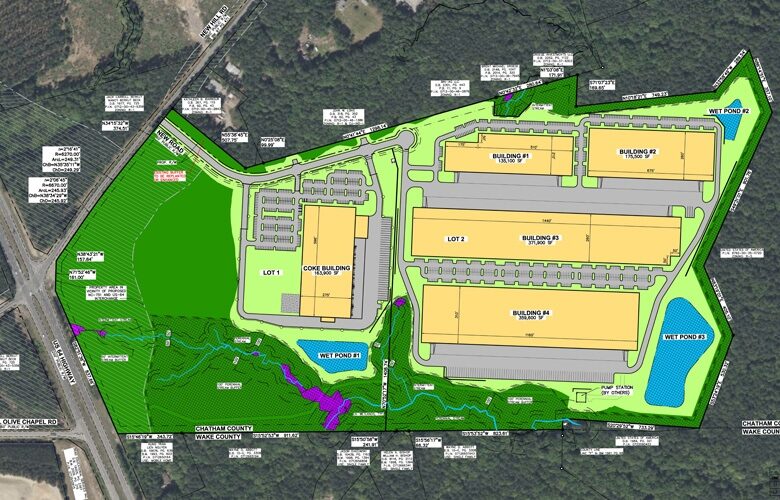 Plans for a new commercial and industrial development that will bring more than 1 million square feet of space to the southern Triangle are becoming clearer.
Charlotte-based Beacon Partners submitted plans for Apex Gateway, a 132-acre development that will bring several large speculative facilities to the town. The development sits at the intersection of U.S. Highway 64 and N.C. Highway 751 on the Chatham side of the Chatham/Wake County border.
Beacon Partners previously discussed plans for the project, but now those plans are coming into focus. A site plan submitted with the Town of Apex shows plans to develop five new buildings totaling over 1.2 million square feet of space.
One of those buildings – measuring 163,000 square feet – will be occupied by Durham Coca-Cola Bottling Company. Triangle Business Journal reported last year that the company was relocating its headquarters to a new facility in Chatham County and closing its operations in Durham and Sanford as a result.
Walker Gorham, partner and Raleigh market leader for Beacon Partners, said the goal is to break ground on the Durham Coca-Cola Bottling Company facility in the second quarter. He said the other buildings in the development will be targeted to the light industrial and life sciences industries.
"We are long-term believers in Apex and the growth to the west in Chatham County," Gorham said. "Obviously we've followed the megasite announcements over the past 12 months in Chatham County and feel that Apex is really in the center of all that growth and development."
Gorham declined to disclose a capital investment figure for Apex Gateway.
Local leaders and stakeholders have talked ad nauseam about the need for more industrial inventory in the Triangle, especially as large manufacturers like VinFast, Wolfspeed (NYSE: WOLF) and Toyota (NYSE: TM) come to the region. Those companies will attract other suppliers to the area that will need space to operate.