Clariant selling 10-acre site in east Charlotte, slashing footprint with upcoming move to Dilworth
March 15, 2021
By Ashley Fahey | Real Estate Editor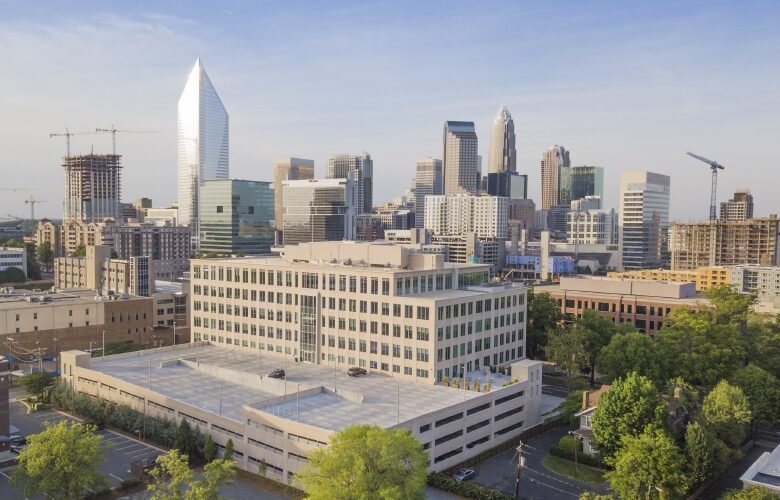 A Swiss company that's kept its North American headquarters on Monroe Road in Charlotte since 1995 is making a big move later this year.
Specialty chemical company Clariant Corp. is selling its 10-acre site at 4000 Monroe Road and signed a deal to lease 32,500 square feet at 500 East Morehead in Dilworth. Clariant will occupy the building's full fourth floor, part of the former McDermott space.
Clariant's current local headquarters, at the intersection of Monroe and North Wendover roads, is a 1950s-era building and slightly more than 160,000 square feet. Through sales of various business lines over the years, the company today has a smaller local headcount than it used to, about 130 in Charlotte, said Gene Mueller, North American president of Clariant.
The 4000 Monroe building is too big for Clariant, Mueller said, and contains spaces, like laboratories, that the local office no longer uses.
Mueller and the company's executive committee wanted to find space that reflected what Mueller called the Clariant 2021 program. Since about 2010, Clariant has been evolving into more of a specialty chemicals company, he said. Historically, the company had a lot of commodities businesses but those have since been divested.
Plus, most Clariant jobs in Charlotte are true corporate functions, such as HR, legal and finance.
"We really wanted to have that new beginning, a new start, that signified that this is a different company," Mueller said.
The goal is for the Morehead Street space to reflect Clariant's new direction, particularly a focus on sustainability. 500 East Morehead was picked in part because of its LEED Silver rating, bicycle racks onsite and proximity to a light-rail station and neighborhood retail and amenities, such as the Dowd YMCA.
Clariant office employees are mostly working remotely right now with the Covid-19 pandemic, with an option for in-office work in shifts and on a voluntary basis, Mueller said. It's not known yet when in-person office will fully rebound but, even in a post-pandemic world, he said Clariant is looking at how to develop flexible work arrangements for employees.
At 500 East Morehead, though, every employee will have a permanent desk, he said. They just may not be sitting there every day.
Clariant began looking for a new office right before last year's pandemic-induced shutdowns and, ultimately, didn't decide to make major changes around its square footage needs because of the pandemic.
"Our company realizes there's new dynamics, and work-from-home is definitely something that's here to stay," he said. "We still believe that great collaboration comes from people interacting together."
Clariant is working with Little Diversified Architectural Consulting on the approximately $2 million upfit. The goal is to have the space move-in ready by May, although it's not certain yet when employees will start working there because of the pandemic.
Cushman & Wakefield worked with Clariant on the lease deal as well as its current headquarters listing.
The Morehead Street space will include open workspace, some private offices, a sustainability room, and collaboration and innovation spaces. Clariant is also adding UV filtration and MERV 13-level air filters.
Clariant looked at about 15 buildings, in areas ranging from Huntersville, Ballantyne and the airport submarket, for the new office. Mueller said he even considered upfitting an old administrative building the company has in Mount Holly for the headquarters and relocating there. Clariant also has a large presence in Houston, Texas, and Louisville, Kentucky, so consolidation in either of those cities was also on the table.
But ultimately, remaining in Charlotte and choosing an office closer to center city proved the right fit, he said.
Clariant's 4000 Monroe Road building is currently under contract, with a potential buyer in due diligence right now, Mueller said. He declined to share additional information.
A real estate source familiar with that transaction said the intended use by the buyer is to renovate the entire building into office space, remove the labs and add amenity space on the ground floor. The sale could close in June.