The People's Market lands prime space in Beacon Partners' The Station at LoSo
July 24, 2023
By Jennifer Thomas | Senior Staff Writer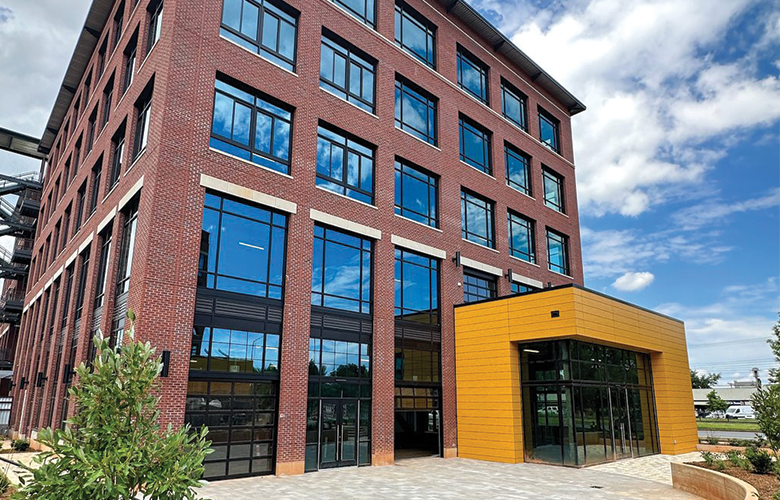 The People's Market is doubling down on Charlotte. Founder Cory Duran has signed a deal to expand the all-day market to The Station at LoSo where it will occupy 5,000 square feet at Station 4.
The People's Market is the first tenant revealed for Station 4, a mixed-use development by Beacon Partners that features two five-story, mixed-use office/retail buildings, each measuring 100,000 square feet.
Duran is targeting a spring 2024 opening. "Expansion was always a part of the business model. It was important to find the right location to match our brand," Duran says.
Charles Thrift and Thompson Brock with Thrift Commercial Real Estate Services represented the landlord on the transaction. d3 Studio has been tapped as the architect. Fairwood Construction will manage the project's upfit. 
The new People's Market location will have seating for 120 and the company's signature yellow accents, as well as natural light. The space will feature work by local artists. An outdoor patio will seat 50-plus. There will be roll-up doors to create an indoor-outdoor experience, with a continuous lineup of live music.
"The People's Market strives to be a neighborhood headquarters, where all people can eat, work and play," Duran says.
There's direct access to The Rail Trail and the Scaleybark Light Rail Station. There's also free on-site parking available for two hours.
The location of offer a full menu, developed by Chef Deacon Ovall. It is still in the works, but scratch-made fare is planned with plans for breakfast, artisan sandwiches and wraps, pizza, salads, smash burgers, pastries and vegan options.
The full bar will feature craft beer on tap, custom cocktails and wine by the glass. The coffee program will offer batch brew, nitro and espresso drinks, customizable with house-made flavors and milk choice. Brewed teas, smoothies, and refreshers will also be available. 
The location will be open seven days a week.
The People's Market expansion comes just about a year after the brand relaunched in Charlotte's Elizabeth neighborhood. Duran, Whiney and Robert Combs rebooted that brand at 1609 Elizabeth Ave., formerly Earl's Grocery.
Duran had been forced to shutter The People's Market's original Dilworth location in February 2020, amid financial difficulties — but he never gave up hope that it would be revived.
When the Elizabeth location opened, Duran says the goal was to bring The People's Market to other neighborhoods in Charlotte.
"We will be thoughtfully looking for additional locations," Duran says. We are also exploring ideas to expand our menu and offerings. Out mission remains the same: give the people what they want."
The Station at LoSo is located within a 13-acre master-planned development that also includes high-end apartment community MAA LoSo. The Station offers occupants a mix of retail, office and apartment units along with walkable access to the Rail Trail and the light rail.
Erin Shaw, managing director of investments with Beacon, says the market adds a perfect additional amenity for its office tenants and the neighborhood. "We have several concepts we have considered for our final restaurant space, but no one has been selected at this point," she says.
There's activity on Station 4 office leasing but no deals signed yet.
Neighboring building Station 3 is 83% leased. Skyla Credit Union — formerly Charlotte Metro Credit Union — has signed a lease for 50,000 square feet to serve as its headquarters.
Skyla joins three first-floor retailers already announced at Station 3. Neighborhood taqueria Taco Boy, Salata and Sweat Method are expected to open this fall. Additional office tenants for that building include Mythic, a locally based marketing and advertising agency, and landscape architecture and civil engineering firm V3 Southeast.