EXCLUSIVE: Skyla Credit Union moving its Charlotte HQ to new lower South End development
June 28, 2023
By Jennifer Thomas | Senior Staff Writer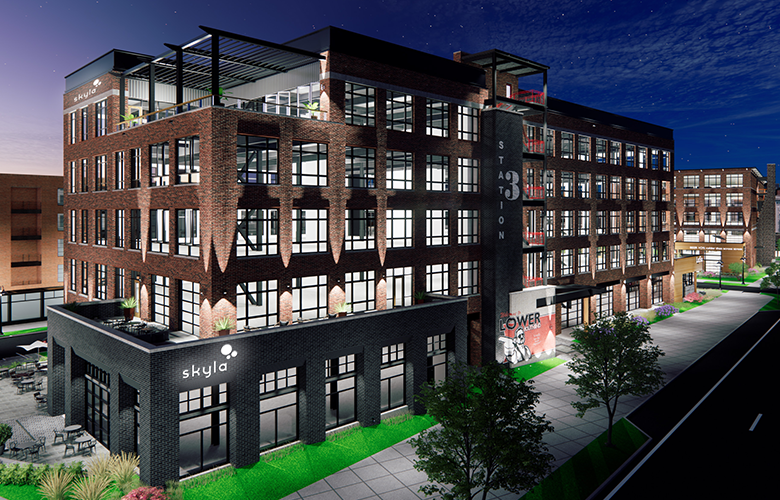 Skyla Credit Union is ready to call lower South End home.
Skyla — formerly named Charlotte Metro Credit Union — has signed a lease for over 50,000 square feet at The Station at LoSo. The top three floors of the Station 3 building, at 3700 South Blvd., will serve as Skyla's headquarters.
A 3,000-square-foot retail bank branch is planned on the southeast corner of that building. It will face the Scaleybark light-rail platform.
Skyla expects to move into that space in early 2024.
The lower South End location will replace Skyla's longtime headquarters on Central Avenue in Plaza Midwood. It will maintain a presence there with its flagship branch at 900 Central Ave.
The credit union previously planned to build a new headquarters in Elizabeth.
"As a financial co-op and with the boom of available office space in Charlotte, we felt it was in our members best interest to pursue a leased space," says Eric Gelly, president and CEO.
Skyla's rapid growth and need for expanded operational space makes an earlier move more desirable as well. Moving to The Station gives Skyla access to part of Charlotte where it does not currently have a presence, he adds.
"With Beacon's innovative approach and future-thinking design, we're confident our new headquarters space will provide the energy and collaboration we've all missed being in various locations throughout the Charlotte region," Gelly says.
Skyla was drawn to the area's pedestrian experience and design elements of the project, including private terraces, conference and fitness amenities and proximity to the light rail and Rail Trail, says Lori Thompson, the credit union's chief culture officer.
Skyla was founded in 1962 to serve the financial needs of city employees in Charlotte. The full-service, not-for-profit financial institution has over 100,000 members and holds assets of approximately $1.4 billion. It has 19 retail branches in the Carolinas, Virginia and California, following mergers with Parsons Federal Credit Union and Premier Federal Credit Union.
Charlotte-based Beacon Partners is developing The Station at LoSo. That mixed-use project features two five-story, mixed-use office/retail buildings, each measuring 100,000 square feet.
Skyla was represented by Will Carlton of The Nichols Co. Erin Shaw and Claire Shealy of Beacon Partners represented the landlord.
Skyla joins three first-floor retailers already announced at Station 3. Neighborhood taqueria Taco Boy, Salata and Sweat Method are expected to open this fall. Additional office tenants for that building include Mythic, a locally based marketing and advertising agency, and landscape architecture and civil engineering firm V3 Southeast.
Station 3 is 83% leased. Station 4 remains available.
The Station at LoSo is located within a 13-acre master-planned development that also includes high-end apartment community MAA LoSo. The Station offers occupants a mix of retail, office and apartment units along with walkable access to the Rail Trail and the light rail.
The development is also close to new restaurants at LoSo Village along Dewitt Lane. State of Confusion, Gilde Brewing and Weathered Souls Brewing Co. have opened, with SupperClub South End, Yama, Phat Burrito, Everyday Market set to debut later this year.