The state's best new structures: overall design
November 11, 2020
By Business NC |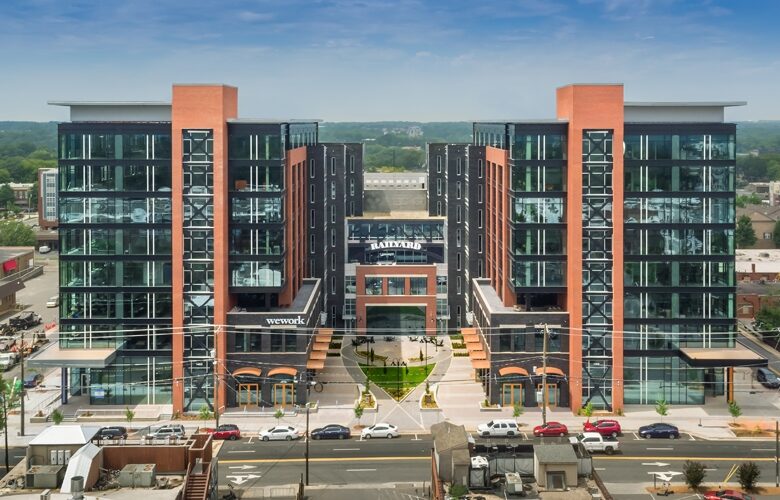 A new, sprawling multiuse space in the Queen City's trendy South End neighborhood. A 22-story tower in downtown Raleigh that boasts the title of "most green" high-rise in the U.S. A 3,023-seat performing arts center in Greensboro that will soon host some of the world's top entertainment and musical acts. The seventh annual Building North Carolina awards highlight some of the state's most impressive commercial real estate projects completed between July 1, 2019, and June 30, 2020, based on design, innovation and impact on their communities.
OVERALL DESIGN
THE RAILYARD SOUTH END | CHARLOTTE
Developer: Beacon Partners, Charlotte
Contractor: Edifice, Charlotte 
Architect: RBA Group, Charlotte 
Cost: not disclosed 
Size: 326,000 square feet of office and retail space; 91 apartments
Beacon Partners and RBA Group considered 30 different plans before settling on the design of the RailYard mixed-use project, says Beacon Senior Partner Mike Harrell. "We wanted to try to do something with a new development that also honored the neighborhood's history." The area, just south of downtown Charlotte, was mostly industrial historically but has been dominated in the last decade by new apartment complexes filled with bankers, lawyers and accountants with center-city jobs. The resulting RailYard emerged as the South End neighborhood's first major multitenant office project following the East Coast headquarters of Dimensional Fund Advisors and, within the next year, major installations for LendingTree and Lowe's. The dual eight-story buildings feature unobstructed views of downtown and lots of common areas with standing desks and communal tables. The RailYard leased up quickly, with insurer Allstate filling the north building as it expanded with a pledge for as many as 2,000 new jobs. The south building's major tenants include accounting giant EY, the Parsons engineering firm and coworking leader WeWork, which Harrell says is doing fine despite its struggles in other markets. "There's not much other coworking space in South End." The RailYard is up for sale, a Beacon official said at a real estate conference in early October. A few blocks away, the firm has another 10-story mixed-use project under construction, scheduled to be completed in mid-2021.

The RailYard also includes restaurants, boutique shops and 91 apartments that range from about 400 to 1,000 square feet with monthly rents of about $1,000 to $2,400.