The state's best new structures: honorable mention
November 11, 2020
By BusinessNC |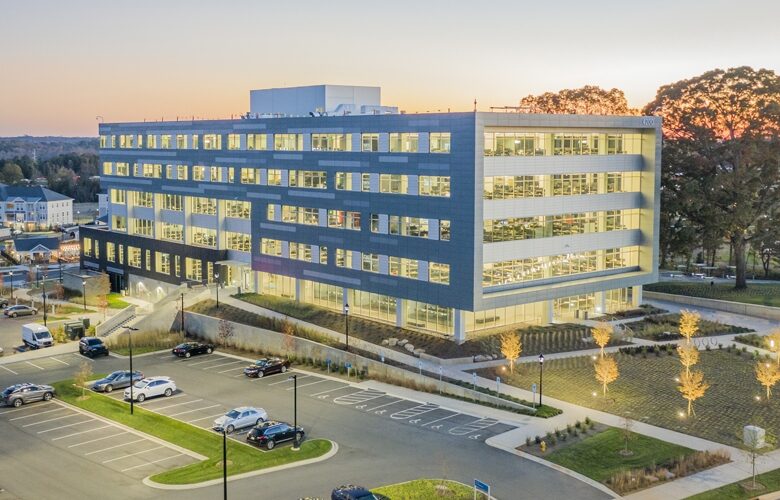 A new, sprawling multiuse space in the Queen City's trendy South End neighborhood. A 22-story tower in downtown Raleigh that boasts the title of "most green" high-rise in the U.S. A 3,023-seat performing arts center in Greensboro that will soon host some of the world's top entertainment and musical acts. The seventh annual Building North Carolina awards highlight some of the state's most impressive commercial real estate projects completed between July 1, 2019, and June 30, 2020, based on design, innovation and impact on their communities.
HONORABLE MENTION
CORNING OPTICAL HEADQUARTERS | CHARLOTTE
General contractor: Balfour Beatty, London 
Architect: Gensler, San Francisco  
Owner: Crown Realty & Development, Costa Mesa, Calif. 
Estimated cost: $38 million Size: 182,170 square feet
[Developer: Beacon Partners]
Corning Optical Communications, a fast-growing division of New York-based fiber-optics giant Corning, announced in 2015 that it planned to relocate its headquarters from Hickory to Charlotte, citing an improved ability to recruit top talent. Located in the Riverbend Village development in northwest Charlotte, the 650-employee headquarters has smart window technology, indoor and outdoor lounges, a cafe, on-site walking trails and a rooftop seating area. Original developer Beacon Capital Partners sold the building for $58.5 million to Crown Realty & Development less than a year after its opening. There were more than 30 bids for the property, which sold for $321 per square foot. Corning Optical, which was offered $2.35 million in state and local incentives as part of the move, has a lease through 2034.