A new private-sector fund that closed this week will help preserve naturally occurring affordable housing in Mecklenburg County.
November 12, 2020
By Ashley Fahey | Real Estate Editor
A new private-sector fund that closed this week will help preserve naturally occurring affordable housing in Mecklenburg County.
The goal of the $58 million Housing Impact Fund is to preserve apartment communities affordable to low- to moderate-income households, particularly ones under threat of being demolished or converted into more expensive housing. The HIF, which includes investments from a number of local corporate and individual investors, is expected to help preserve about 1,500 units.
Nelson Schwab, former chairman of Paramount Parks, and Erksine Bowles, former University of North Carolina president, helped launch the fund and will serve as managing members of the HIF.
About $38 million in investment came from Truist Financial Corp., Atrium Health, LendingTree, Movement Mortgage, nine local real estate development firms and other investors. Local Initiatives Support Corp. has also committed up to $20 million in co-investment from the Charlotte Housing Opportunity Investment Fund, which it manages.
Truist is the fund's lead investor, having committed $15 million that will be used as equity in purchasing apartment communities.
"Our investment will help provide safe, stable and affordable homes for 1,500 families to live and raise their children," said Kelly King, Truist chairman and CEO Kelly King, in a statement. "We're honored to partner with the HIF leadership team and the fund's partners to address the affordable housing crisis in Charlotte and live out our purpose to inspire and build better lives and communities."
Ascent Housing, a platform of Charlotte real estate firm Ascent Real Estate Capital, will acquire and manage the properties on behalf of the investors.

Units at properties that will receive investment from the fund will be reserved for households earning less than 80% of the area median income. Nearly a third of the units will be dedicated to those earning at or below 30% AMI. All properties will have deed restrictions put in place to keep units below market rate.
Capital from the fund is expected to be deployed over the next two years and will be used alongside investment from the city of Charlotte and Mecklenburg County.
Why NOAH?
Naturally occurring affordable housing, or NOAH, generally refers to housing that rents below market rate without public subsidy.
Properties considered NOAH are usually a couple of decades old and lack the flashy amenities of new construction apartment buildings in town. Many are in neighborhoods close to jobs, transit and neighborhood services, making them attractive acquisition targets.
The erosion of NOAH has been identified as a key threat to Charlotte's affordability crisis. Many NOAH properties are in areas seeing rapid rent growth and property value appreciation. A recent study by UNC Charlotte found the lowest-income housing in the Charlotte market is seeing the fastest rate of growth.
"We like to buy NOAHs we think are facing threats to gentrification," said Mark Ethridge, partner at Ascent Real Estate Capital and president of Ascent Housing, in an interview. "We're typically buying properties that are generally affordable today but wouldn't be tomorrow if it wasn't for our preservation efforts."
In the past 18 months, Ascent Real Estate Capital has become a bigger player in the NOAH space locally. It acquired the 98-unit Sharon Oaks property with Laurel Street last year, a deal assisted by a $2.1 million loan from the Housing Trust Fund. Sharon Oaks was the first publicly funded NOAH deal in Charlotte.
And earlier this year, with nonprofit Roof Above, Ascent acquired the 341-unit HillRock Estates property in the Windsor Park neighborhood. Various partners, including Atrium, helped finance that deal, which will reserve at least 20% of the units for Charlotteans facing chronic homelessness.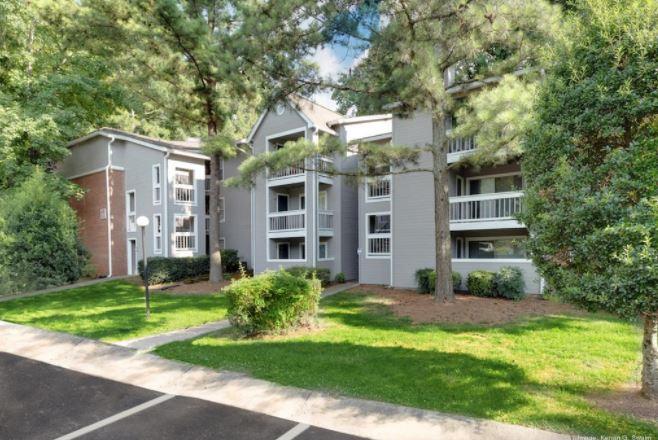 Roof Above and Ascent Real Estate Capital purchased a 341-unit property off Eastway Drive, at 3317 Magnolia Hill Drive, for $47.7 million. KENAN G. SWAIM
Ascent has under contract the 144-unit Lake Mist Apartments property near the Archdale Station on the Lynx Blue Line, off South Boulevard. It will be the first apartment property acquired with the new fund. Charlotte City Council in September approved $2.4 million from the HTF for that project.
Ascent expects to close on Lake Mist in early December. The property will include 43 units at 30% AMI, seven units at 50% AMI, 65 units at 60% AMI and 29 units at 80% AMI.
Also in the works is a pilot program that would provide housing vouchers to households earning at or below 30% of the area median income at properties the HIF invests in. Mecklenburg County commissioners have signed off on participating in the pilot.
The program calls for the county to provide rental subsidies that are equal to a NOAH property's county tax bill for the length of its deed restriction. Funding will be administrated through a third-party housing services provider.
Lake Mist will be the first property to pilot the program. The county estimated at least 22 households at Lake Mist earning 30% or below AMI will be served under the rental subsidy program.
Ethridge said supportive-services programs will also be implemented at properties the fund invests in. Ethridge said R.J. Leeper Construction, which will spearhead rehabilitation at the properties, has committed to hiring minority subcontractors and instituting a workforce development training program.
Equity the missing piece
Finding capital patient enough to invest in a NOAH deal has been Ascent's biggest obstacle in acquiring those properties, Ethridge said. The firm has managed to close on or put under contract some 600 NOAH units but it's been a challenge.
Adding to the challenge: well-capitalized real estate investment firms and developers are able to compete for NOAH properties. Oftentimes, those groups have plans to either raze the property for a new project or do what's called a value-add deal, which includes substantial capital investment followed by an eventual increase in rents.
At the properties Ascent acquires, it typically spends $10,000 to $15,000 per unit in deferred maintenance, Ethridge said. Deal financing also accounts for future investment needed to keep a property and units functional — new air conditioners, water heaters, flooring and appliances, for instance.
Ethridge said he was introduced to Bowles and Schwab in March. The businessmen, also founding partners of private equity firm Carousel Capital, were looking for a new way to address housing insecurity in Charlotte.
"(They) thought (NOAH) was a quick way to try to secure affordable housing units in the market," Ethridge said. "That was more compelling to them than some of the opportunities presented by new construction."
Ethridge said they began developing a plan for the fund in April, then pitched to potential investors — over Zoom calls — this summer and into the fall.
Bowles, Schwab and Ethridge serve on the fund's board of advisers. Other members are Jarred Cochran, managing director of Wells Fargo's securities investment banking division; Selma Fox, director and communications consultant at TIAA Financial Services; Carlenia Ivory, a former council member and community activist; and Mike Maguire, head of national consumer finance and payments at Truist.
The entire fund was raised during the Covid-19 pandemic, a time when housing insecurity has become a more pressing issue in Charlotte and across the nation. Pre-pandemic, Charlotte faced an affordable-housing shortage of more than 30,000 units.
"... there's no question that the last six months have really pronounced the needs we have," Ethridge said. "I think (the pandemic) certainly galvanized our efforts, to want to solve this quickly. It did inform our decision-making and ways we set this up — raise the money quickly and deploy it sooner rather than later."