Beacon Partners acquires land for large Pineville industrial park
September 17, 2020
By Collin Huguley | Staff Writer
A Charlotte developer has taken another significant step toward making a large industrial park in the region a reality.
Beacon Partners has finalized its acquisition of over 240 acres of land for Carolina Logistics Park, a Pineville industrial park that was approved in July. Beacon's existing project at 12115 Downs Road is on a 46-acre site, which is part of the park also. In total, CLP will include 288 acres and up to 3.5 million square feet of industrial space upon completion.
An entity affiliated with Beacon paid just under $32 million for the roughly 240 acres of the new land, Mecklenburg County real estate records show.
Jon Morris, senior partner for Beacon's industrial division, said the developer plans to begin site work at CLP next week. The plan was always to begin site work sometime in the third quarter, Morris said. The project has stayed on schedule despite the repercussions of the Covid-19 outbreak. Should that remain the case, Morris said the plan is to have the site ready for build-to-suit projects and/or speculative buildings in spring 2021.
Site plans for the project that were provided to the Charlotte Business Journal provide some more insight into what the development will look like. It shows a plan for several large industrial buildings, which are seeing higher demand in the Charlotte region recently.
The plans show CLP can have three buildings between 170,000 and 200,000 square feet, and those are the smallest at the project. CLP can accommodate a building over 1 million square feet and several more between 300,000 and 550,000 square feet, the plans show.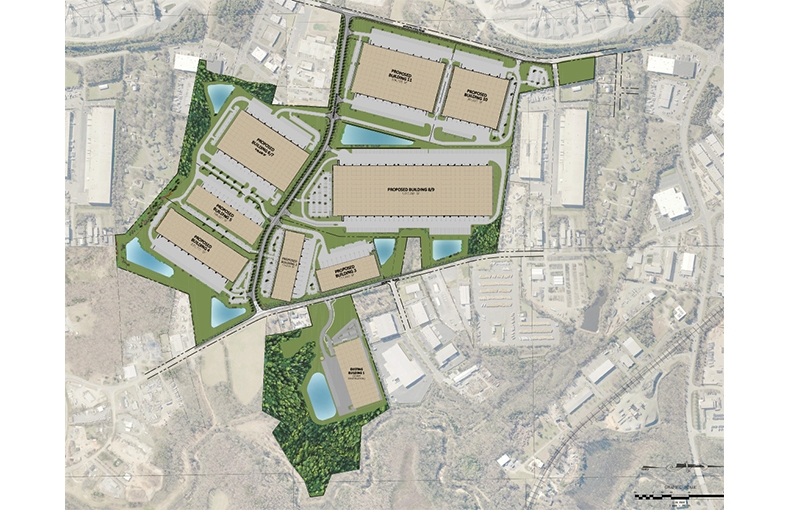 Merriman Schmitt Architects is the architect for CLP, and Charlotte-based Orsborn Engineering Group is the civil engineer.
CLP represents more growth for Beacon's portfolio in Pineville. The building at 12115 Downs Road, part of the industrial park, is 230,614 square feet. Beacon also developed a 525,000-square-foot, build-to-suit distribution facility for Campbell Snacks nearby at 10230 Pineville Distribution St.
"Beacon can't wait to capitalize on the momentum from completing two build-to-suit projects in Pineville over the last 12 months, and the site plan approval granted by the Pineville council in July," said Tim Robertson, director of industrial leasing for the firm. "Carolina Logistics Park offers two sites for large footprint facilities over 1 million square feet, as well as an array of more typical Charlotte industrial buildings in the 150,000- to 500,000-square-foot range. Overall, we can develop up to 3.5 million square feet on the site. CLP will be the only master-planned park of that scale in the Charlotte region."