Beacon Partners doubles scope of mixed-use project in Lower South End
January 13, 2020
By Ashley Fahey | Real Estate Editor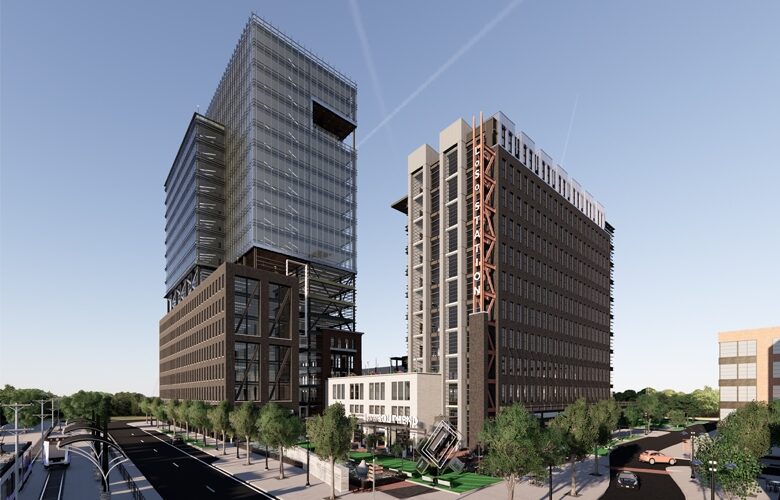 Charlotte development firm Beacon Partners is preparing to go vertical on its mixed-use project fronting the Scaleybark Station in Lower South End — and the office and retail component could now total more than 1 million square feet.
Beacon closed on its purchase of two parcels totaling 7.6 acres in late December, paying nearly $14.5 million for the land, according to Mecklenburg County real estate records. Beacon's holdings include the undeveloped parcel bounded by South Boulevard, Freeland Lane, Dewitt Lane and Whitton Street in addition to a roughly 1-acre site on South Boulevard.
Beacon Partners will kick off the development, LoSo Station, with a five-story, 80,000-square-foot office building with retail space this summer.
But a significant difference in Beacon's plans is the potential for the entire site to accommodate up to 1 million square feet of office and retail space, about double the original 500,000-plus square feet called for when the developer first disclosed its LoSo Station plans about a year ago. A new rendering depicts one office tower with more than 15 floors.
Erin Shaw, director of office investments at Beacon, said the firm decided to master-plan a denser project after the new transit-oriented development ordinance — and subsequent rezoning — passed last year. The larger of the two sites Beacon acquired, where the tallest development could potentially be built, is zoned TOD-UC, the densest TOD zoning that allows buildings up to 130 feet in height byright, although taller buildings are permitted through a height bonus.
"It facilitates that level of development in terms of height and scale," Shaw said. "We don't have a tenant in hand or anything like that so there's a lot of flexibility that goes along with that site at the moment."
The current plan is to reserve that portion of the site, which measures 6.3 acres, for a corporate user or a fewer number of tenants needing substantial amount of office space rather than speculative development. There's also potential to add a parking deck on that land, Shaw said.
But the first 80,000-square-foot office building, to be built on Beacon's smaller site, will break ground speculatively this summer, Shaw said. The firm envisions it as a multi-tenant building and will include at least 10,000 square feet of ground-floor retail space.
In addition to Beacon's portion of the development — which will include office and retail space as well as rooftop entertainment, meeting space, outdoor retail plazas and athletic fields — Crescent Communities will develop apartments and retail space on adjacent land. Crescent recently acquired a 3.9-acre parcel of land off Dewitt Lane for $12.5 million, where it will develop 344 apartments and "complementary" retail space in a six-story project called Novel LoSo Station.
Novel LoSo Station — one of several multifamily projects Crescent has under construction or in operation both in Charlotte and elsewhere — will include two exterior courtyards, one with a heated saltwater pool, as well as amenities like a retail coffee shop and coworking space, a Skydeck club with views of uptown, a two-story fitness center, 24/7 package access and "concierge level service," according to the developer.
Construction on Novel LoSo is expected to begin this month, with the first units to be ready for residents in the second half of 2021. Crescent is also developing a 972-space parking deck on site, which will serve the residential, retail, office and hotel components as well as the transit station.
The city of Charlotte also owns a 0.6-acre parcel earmarked for affordable housing. A boutique hotel is also planned for the site.
Beacon and Crescent acquired the Scaleybark land from longtime owner Cherokee, which had plans to develop the 15-acre site with another local firm, Pappas Propeties, more than a decade ago.
The first office building at LoSo Station is expected to deliver in the fall of 2021, Shaw said. Beacon Partners is also working on an adaptive-reuse development nearby — an overhaul of former warehouse buildings on Dewitt Lane and Tryclan Drive into about 50,000 square feet of office and retail space.
The RBA Group is the project architect at Beacon's LoSo Station. LandDesign is the landscape architect. Kristy Venning at Beacon will handle leasing for the project.
Crescent Communities Construction will serve as the general contractor for Novel LoSo Station. Dwell Design Studio and Historical Concepts are the project architects and LandDesign is the civil engineer. CID Interiors will provide interior design and Dix.Hite+Partners will provide landscape design services. Project financing for Novel LoSo Station is being provided by Goldman Sachs and Regions Bank.