Beacon Partners sells more LoSo Village real estate after Gilde deal
May 13, 2021
By Ashley Fahey | Real Estate Editor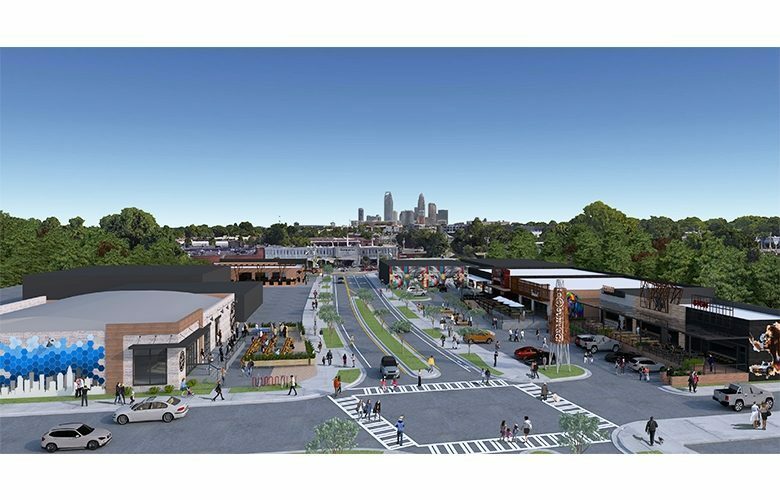 Charlotte real estate firm Beacon Partners has sold more of its LoSo Village real estate.
Beacon last week sold the buildings at 3521, 3531 and 3541 Dewitt Lane. That's across Dewitt from a property German brewery Gilde recently acquired — also from Beacon — for its first United States operation.
The three Dewitt Lane properties, which total 27,720 square feet, were purchased for $6 million by NC LoSo LLC, according to Mecklenburg County real estate records.
Beacon Partners said Wednesday the buyer is Birdie Yang, owner and operator of restaurants Yama and Baku in Charlotte. Yang plans to create a food and beverage destination across the three properties, potentially with three to five concepts total.
That includes a new Yama concept by Yang that will take about 3,500 to 4,000 square feet. It is expected to open in the first quarter of 2022.
"We clearly share the same vision as the Beacon team for the overall LoSo Village project," Yang said in a statement. "The whole area has a walkable, park-like feel, quite different from traditional shopping center locations."
The intersection of Dewitt and Tryclan Drive is busy with development activity. Gilde is opening a 5,450-square-foot indoor bierhaus and a 2,500-square-foot outdoor biergarten this fall at 3530 Dewitt, the northwest corner of the intersection. Local real estate developer Proffitt Dixon Partners is expected to break ground this summer on a 343-unit apartment project across Tryclan from Gilde, at the southwest corner.
And Crescent Communities is underway on Novel LoSo Station, near the intersection's southeast corner, where it's building 344 apartments. The land purchased by NC LoSo LLC is at the northeast corner of Tryclan and Dewitt.
The projects are all in walking distance to the Lynx Blue Line Scaleybark Station, an area that has in recent years seen a surge of new investment. Breweries and entertainment venues like The Olde Mecklenburg Brewery and Sugar Creek Brewing Co. led the way. Now, several real estate firms are either actively developing or teeing up apartment projects in the vicinity.
As South End has built up, real estate activity has moved farther south along the Blue Line. Beacon first proposed the LoSo Village project about two years ago, after acquiring six warehouse buildings totaling a little more than 52,000 square feet. Separately, Beacon has on the drawing boards LoSo Station, which may include future office development.
Erin Shaw, director of office investments at Beacon, said late Wednesday the decision to sell the LoSo Village properties, rather than lease them, was driven in part by retailers wanting to control their own destiny.
"With Covid, it was (also) a wise decision for our investor group to de-lever on some of those properties and not take undue risk to spend the money and reposition them ourselves," Shaw said.
At 3530 Dewitt, which Gilde now owns, Beacon did a full site and shell renovation before selling it to the brewery, which allowed that deal to move a bit more quickly.
That deal also helped Yang get comfortable with what he could do on the Dewitt buildings he purchased, Shaw added.
After the deal with Proffitt Dixon closes — which is in conjunction with two other site owners — Beacon Partners will have one more 10,000-square-foot building at LoSo Village, at 3500 Dewitt Lane. That's at the corner of Dewitt and Clanton Road.
Shaw said Beacon is exploring multiple options for that site, which could include another sale or a lease, likely to another retail-oriented tenant.
"We feel like that area is only getting better," she continued. "There's no huge rush on closing out that portfolio."
At LoSo Station, Shaw said Beacon feels more bullish than ever on its future. She said the ability to design a post-pandemic office building, as well as the proximity to transit, has contributed to that optimism.
Shaw said the firm is well into designing the boutique office building, planned for a 1-acre site fronting South Boulevard, but doesn't have anything to share yet. But the hope is to break ground on it sometime this year.
Also on the market is a site to develop up to 1 million square feet of office space — marketed as a build-to-suit opportunity — on an adjacent, 6-acre parcel at LoSo Station, on the southernmost portion of the property. Shaw said there's nothing far along for that site but tenant activity and interest, in general, has stepped up in 2021.
William Diehl III of Diehl Properties represented the buyer in the LoSo Village transaction. Charles Thrift at Thrift Commercial Real Estate represented Beacon.