Construction Update at The Square in South End
February 04, 2021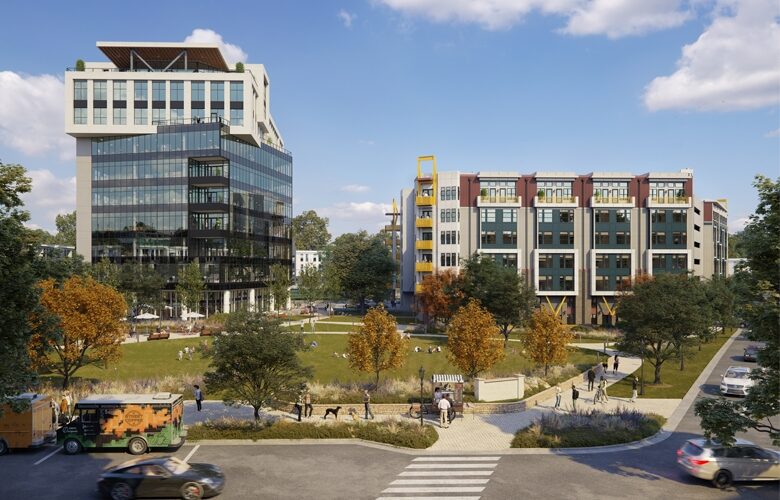 Beacon Partners, in partnership with Mecklenburg County, has officially begun construction on Wilmore Centennial Park with a target completion date of this summer. The new park will be adjacent to The Square at South End, a mixed-used development at the corner of West Blvd. and Hawkins St. It will encompass a 10-story, 150,000-square-foot office building that includes 8,000 square feet of retail on the first floor with a restaurant space overlooking the park. The office building is also scheduled for completion this summer. The overall mixed-use project also includes a six-story, multi-family development with retail on the ground floor. An outdoor plaza and a shared outdoor wellness center will connect the two projects.
Wilmore Centennial Park's 1.5 acres, at the intersection of Hawkins and Kingston Street, was designed based on feedback from the Wilmore community gathered over two years by Mecklenburg County Park and Recreation Department. The park will feature a large open lawn area facing uptown, areas for art displays, sitting areas and variety of outdoor spaces for gathering and leisure activities.
The Square at South End will also put employees and residents within walking distance of some of the best restaurants and retail in Charlotte. It is situated one block from the East/West Blvd light rail stop, one block from The Design Center and one block from the Rail Trail. 
Beacon has partnered with David Furman, founder of Centro Cityworks, to develop the multi-family units that will surround the parking deck. Beacon Partners has collaborated with Furman on two other projects in South End, 1616 Center and The RailYard Micro Units.
"We are grateful to Beacon Partners, Mecklenburg County and CentroCity Works for their investment and vision needed in Wilmore Park," said Michael J. Smith, president and CEO of Charlotte Center City Partners. "Wilmore Centennial Park is an essential component of the South End Vision Plan, and we are so pleased to see this vital public space come to life. It will be an incredible place for the Wilmore and South End neighborhoods to come together with our entire community."