New-to-market restaurant signs on at high-profile lower South End project
February 18, 2022
By Jennifer Thomas | Senior Staff Writer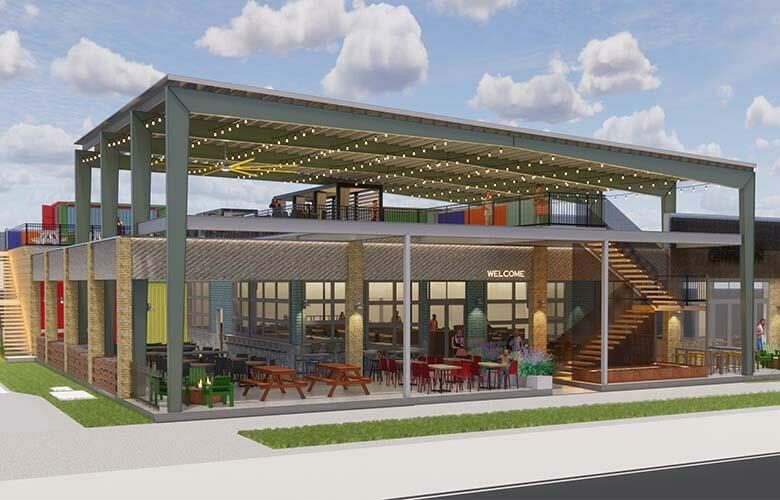 State of Confusion has snapped up space in lower South End for its first restaurant outside of Tennessee.
Charlotte-based Beacon Partners says the Chattanooga-based restaurant will occupy a 9,500-square-foot building in LoSo Village. It will be located at the corner of Clanton Road and Dewitt Lane.
"The Charlotte market and growth is really among the best in the Southeast," says Jamie Walton, senior vice president of development and operations at SquareOne Holding. "And this is just a great spot."
The goal is to open in late 2022.
SquareOne's sister restaurant, STIR Charlotte, is located at The RailYard in South End.
Expect State of Confusion to dish up authentic, made-from-scratch cuisine influenced by Latin America, New Orleans and the Lowcountry of South Carolina.
The menu is steeped in tradition. The culinary team traveled to Peru to perfect its ceviche and other locales to dial in its menu items such as the Jambalaya of Lowcountry boils.
Argentinian wood-fired grills, called parrillas, allow dishes to be cooked over wood coals. That enhances the flavor while respecting tradition.
"It's about levity and sharing, with the highest quality, authentic food with a unique fusion of flavors and cultures," says Allen Corey, founder and chief executive officer of SquareOne.
The restaurant will be open for lunch, dinner and weekend brunch.
Starters run the gamut from Peruvian lettuce wraps and fried calamari steak strips to Aji chicken egg rolls and savory monkey bread.
There are salads, sandwiches and burgers — with bison, house-ground beef and plant-based options available — as well as NOLA Po Boys. The fried bologna sandwiches, made with house-made bologna, is a favorite.
Entrees include dishes such as Peruvian Paella, wood-fired steak skewers, jambalaya and Butcher's Butter Steak — cut from the prime piece of a ribeye.
"It's all about that quality, made-from-scratch food," Walton says.
There's a focus on creative cocktails, such as the house-expelled sugarcane mojitos, Ranch Water — a south-of-the-border tequila-based cocktail — and draft margaritas with fresh lime juice. Non-alcoholic Agua frescas come in flavors such as strawberry basil, honey peach and cherry limeade.
The restaurant's aesthetic also helps set the stage. The open-air vibe melds approachable with slightly quirky and culturally eclectic.
The layout offers patios, multiple bars and different dining nooks. The indoor-outdoor vibe runs throughout the space. The lower South End location will have a steel-covered rooftop element.
Charles Thrift of Thrift Commercial represented Beacon Partners in the recent lease of 3500 Dewitt Lane and John Shaheen of TrueView Real Estate represented State of Confusion.
 Venture Construction is the general contractor on the project. Bray Architecture out of Colorado is the architect.
"The roster of high-quality food and beverage retailers like State of Confusion that have chosen to make LoSo Village their home speaks to the growth and energy that so many have envisioned for this neighborhood," says Erin Shaw, Beacon's director of office investments. 
Beacon acquired a collection of small brick-and-beam vintage warehouses in 2019 and rebranded them as LoSo Village.
In 2021, Beacon sold four of the LoSo Village buildings in two separate transactions.
3530 Dewitt Lane totaling 9,500 square feet was sold to Gilde Brewing for $3.1 million. That German brewery is set to open this month.
Three adjacent Dewitt Lane warehouses sold to restaurateur Birdie Yang for $6 million. Yang — behind Yama — plans to revitalize the nearly 28,000-square-foot buildings with at least three restaurants planed. Yama and Phat Burrito have been announced as tenants.
LoSo Village is just one block from The Station at LoSo, a master-planned, 12-acre mixed-use development by Beacon Partners and Crescent Communities.
That project totals 190,000 square feet and will bring two boutique office buildings with ground-floor retail. Crescent's Novel LoSo will add a 350-unit apartment complex at the site.