First office buildings at lower South End development to begin construction this fall
September 07, 2021
By Liz O'Connell | Staff Writer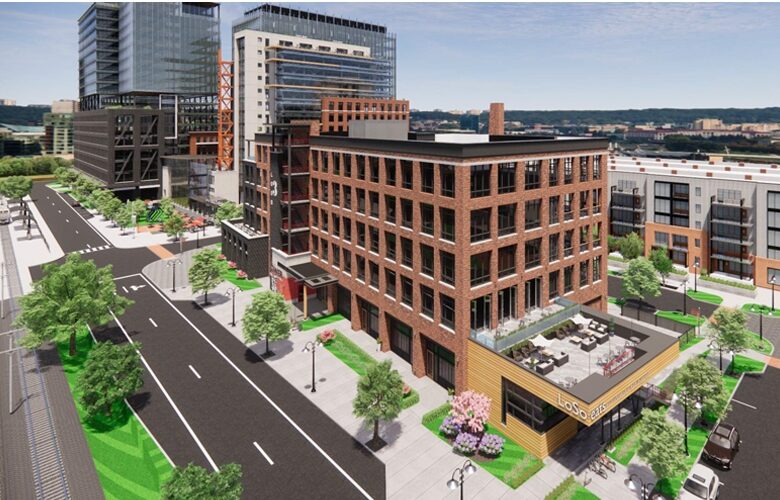 Another section of the 15-acre mixed-used LoSo Station development is set to begin construction in October.
Beacon Partners said it expects to complete the two five-story office buildings, called Station 3 and Station 4, on its lower South End campus in the fall of 2022.
Station 3 and Station 4 will have a total of 190,000 square feet, with office suites ranging from 5,000 to 90,000 square feet. The buildings will have open-air lobbies, operable windows, a tenant-dedicated fitness center, conference or training rooms, bike storage and private outdoor patios with views of the city. 
There will be a total of 25,000 square feet of ground-floor retail and restaurant space between the two buildings. Beacon is marketing these as 5,000- to 10,000-square-foot spaces. This will allow for about two to three restaurant spaces with patio availability and another two to three spaces for retail.
No tenants have signed on for office or retail space, but there has been early interest in the site, according to Erin Shaw, director of office investments at Beacon.
"The opportunity to design and develop an office project in an easily accessible location from roads and highways, but also with a light-rail station directly to your front door, is really special," Shaw said. "The site combines those advantages with the 3,000 multifamily units under development and the retail/restaurant options within walking distance, allowing Station 3 and 4 to present an exciting work environment for prospective tenants."
Two more buildings, Station 1 and Station 2, are coming to LoSo Station. These buildings are expected to be office space, but there is no projected start time for construction. Beacon is marketing the 6-acre site as a build-to-suit space for one to two corporate office users. The site will allow for each building to be between 200,000 to 500,000 square feet with its own dedicated parking deck.
Rounding out the campus is the recently opened Novel LoSo Station by Crescent Communities. The six-story apartment building includes 344 units with an average size of 801 square feet.  
LoSo Station is located directly across from the Lynx Blue Line Scaleybark light-rail stop and part of the ongoing growth of the area. Adjacent to this project is LoSo Village, an adaptive-reuse retail project led by Beacon.
Edifice will serve as the general contractor for Station 3 and Station 4. RBA is the architect, and LandDesign is the landscape architect. The lender is Wells Fargo. Shaw is managing the office leasing, and Thrift Commercial will handle the retail leasing.