New Apex developments include 200K-square-foot headquarters
April 07, 2022
By Caleb Harshberger | Staff Writer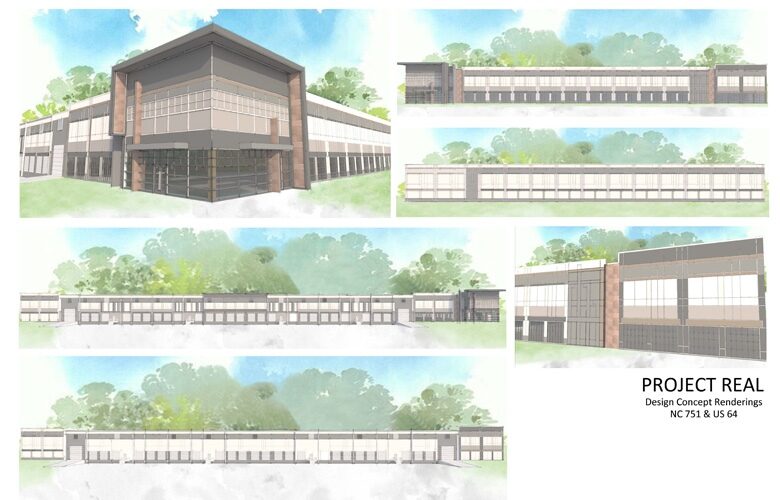 A Charlotte developer is planning a pair of developments in Apex as companies flock to the rapidly-growing town.
Beacon Partners has filed plans for Project Real, a mixed-use development, and started work on Project Delta, a build-to-suit industrial development in Apex's 120-acre Cash Corporate Center located at the end of Production Drive south of Highway 1.
Each project is anchored by tenants that the company has declined to name this early in the process.
Walker Gorham, Beacon Partners Triangle market leader, said the company is targeting Apex as a number of prospective users and existing clients say they're looking for space in the community.
"They're saying, 'We're growing and we need to meet the demand and all the supply logistics analysis points to this Apex eastern Chatham County node,'" Gorham said. "We feel we can service Durham, Chapel Hill and Raleigh, and all this growth in Holly Springs, Apex and Fuquay-Varina. Our view is that it's not where the puck is going, it's where the puck is."
Project Real
Still in the planning and approval stages, plans for Project Real call for a mix of industrial, life sciences and retail space.
The project is set to be anchored by a 200,000-square-foot headquarters for a beverage manufacturer. That company has yet to be named, but Gorham said more information will be released in the coming weeks. The new headquarters facility is expected to bring 200 new jobs to Apex
The project is situated on 132 acres at U.S. Highway 64 and N.C. 751.
Gorham said the Town of Apex rezoned the property to make way for the project, and Beacon Partners is still working to get the final approvals from the town. Beacon Partners plans to follow the headquarters facility with a mix of office, life sciences and retail uses.
Kimley-Horn is the civil engineer on the project, and Merriman Schmitt is the architect.
Project Delta
Elsewhere in town, work is underway on a 306,000-square-foot industrial development as a part of the Cash Corporate Center.
Construction on Project Delta is expected to wrap up this July. The tenant has been not disclosed.
Advanced Civil Design is the civil engineer on the project. Merriman Schmitt is the architect. InterCon Building Corp is the general contractor, and Fifth Third Bank (Nasdaq: FITB) is the lender.
Ann Stewart Patterson and Blaine Kelley with CBRE (NYSE: CBRE) represented the customer.
The Cash Corporate Center is a North Carolina Certified Site, designated by the Economic Development Partnership of North Carolina. The Center landed its first tenant last year when EnviroFlight, a subsidiary of Darling Ingredients Inc. (NYSE: DAR), announced it was bringing a 30,000-square-foot headquarters to the site.