PHOTOS: A peek inside latest development to wrap up in South End
August 23, 2019
By Ashley Fahey and Melissa Key | Real Estate Editor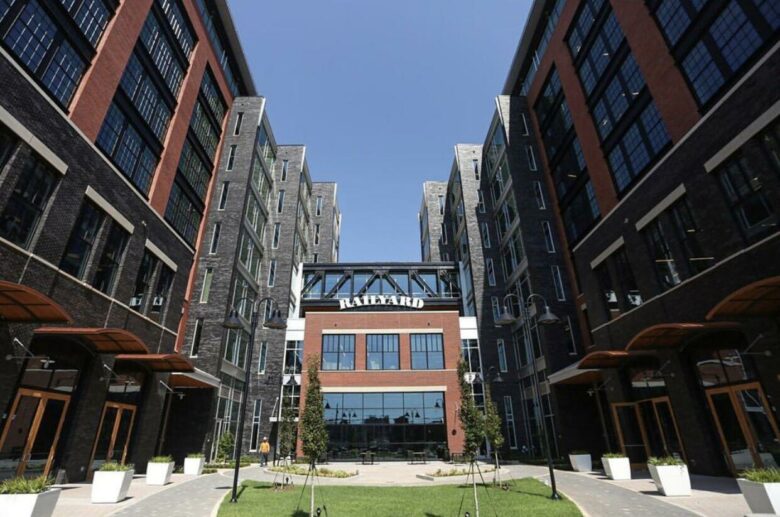 This summer, an office development in South End that's home to Fortune 500 companies and local groups alike received its certificate of occupancy.
Companies like coworking giant WeWork and consulting firm Slalom have since settled in, and employees are already working at The RailYard, a two-building project that includes about 300,000 square feet of office space and 30,000 square feet of retail. The north building's office space is exclusively leased to Allstate Corp., which said in 2017 that it would add more than 2,000 jobs here over three years as part of an expansion.
WeWork opened its third Charlotte office at the RailYard on Aug. 1, taking the second and third floors of the south tower. It follows two other offices that WeWork opened in uptown, including what is so far the biggest office for the coworking company in the Southeast, at First Citizens Bank Plaza. Other tenants at The RailYard, some of whose spaces are still under construction, include Parsons Corp., Slalom and EY, which will open an innovation center at the building as part of its own 375-job expansion.
The RailYard was built on the former HD Supply site, a block bounded by Tryon, Bland, Winnifred and Winona streets in red-hot South End. Charlotte-based Beacon Partners broke ground on the project in late 2017.
Retail tenants will begin moving into the ground floor later this year, once their upfits are complete, including Rhino Market & Deli, Orangetheory Fitness, North Italia, Bishops Haircuts and Stir.
The RailYard is Beacon's latest project in the South End and midtown area. It follows other submarket projects like 500 East Morehead and 1616 Center. Other features of The RailYard include a 15,000-square-foot outdoor space that connects to the main lobby via a 40-foot wide roll-up door, bike lockers, a fitness center, and outdoor patio and rooftop terrace spaces.
Apartments, which have been described as "micro-units," by Centro Cityworks and Ascent Real Estate Capital are under construction now, wrapping an operational parking deck for the office building. That project, Centro RailYard, will include 91 apartments and 12,000 square feet of commercial space.
Up next for Beacon is The Square at South End, a 10-story, 150-square-foot office building with ground-floor retail space and a 1.5-acre park, in partnership with Mecklenburg County Park and Recreation. Beacon also has on deck an adaptive-reuse project, called LoSo Village, near the Scaleybark Station on the Lynx Blue Line and a new construction project, LoSo Station, on a greenfield site nearby.
At The RailYard, Edifice was the project general contractor. LandDesign was the civil engineer. RBA Group was the architect. Construction financing was provided by Wells Fargo & Co.