Twin buildings at The RailYard bring site's history to life
October 29, 2019
By Ashley Fahey | Real Estate Editor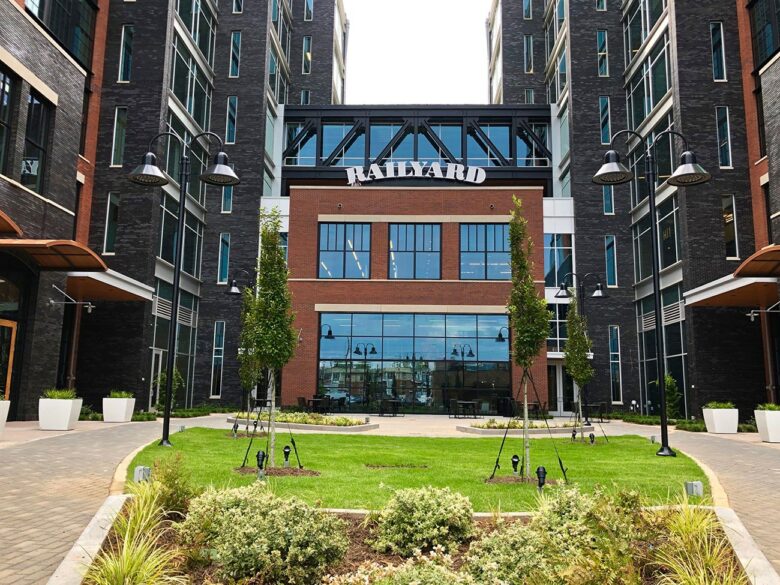 What was formerly the location of an industrial distributor and a railroad line is now the home of office and retail space in the heart of a fast-growing neighborhood.
Beacon Partners began thinking about what the 3.5-acre site between South Tryon and Winnifred streets in South End could become more than three years ago, when it hosted meetings in the neighborhood about the site's potential. The project ultimately became known as The RailYard, paying homage to the site's history as well as the building's architecture and design, which incorporates brick, ornamental steel and dark colors.
The RailYard includes twin buildings with a combined 300,000 square feet of office space and 30,000 square feet for retailers. The project's entire north tower was leased by Allstate Corp., which said it would bring more than 2,000 jobs here as part of an expansion in 2017, while the south tower is also fully leased to a mix of tenants like WeWork, EY, Parsons Corp. and Slalom.
Retailers, including Rhino Market & Deli, Orangetheory Fitness, North Italia, Bishops Haircuts and Stir, will begin opening at The RailYard later this year.
Still to come are "micro" apartments by Centro Cityworks and Ascent Real Estate Capital. The partners are currently under construction on those residential units, which are wrapping the project's parking deck.
Beacon Partners has established itself as a major real estate player in the boom occurring in South End and midtown, with The RailYard perhaps being its largest and most visible bet so far on the area.
Key Players
Owner/developer: Beacon Partners
Architect: The RBA Group
Civil engineer: LandDesign
General contractor: Edifice Inc.
Leasing brokers: Kristy Venning at Beacon Partners (office space); Charles Thrift at Thrift Commercial Real Estate Services (retail space)
By the numbers
2,250 - number of jobs
promised by Allstate
8 floors in each of the two buildings
14 foot clear ceiling height on the office floors
Biggest challenge?
"The biggest challenge we encountered on The RailYard project was integrating all of our tenant-related design requests into an otherwise core-and-shell speculative project. The design of the core-and-shell building had to be modified multiple times to accommodate our tenants — but we were happy to adapt for our clients."
Matt Lucarelli, director of project management, Beacon Partners