USAA confirms Charlotte office, will lease six floors at South End building
May 28, 2021
By Ashley Fahey | Real Estate Editor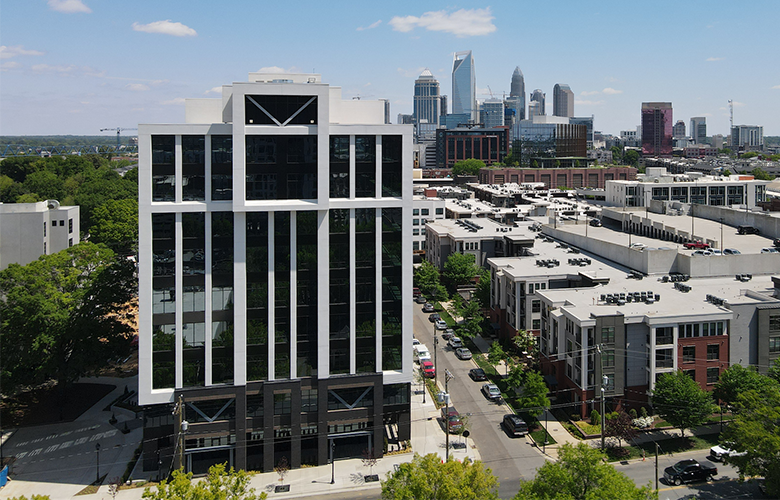 Fortune 100 financial services company USAA has confirmed it will open a Charlotte office.
The company, headquartered in San Antonio, will hire about 750 employees in Charlotte — either onsite or in a hybrid model, USAA said Thursday afternoon. USAA is leasing six floors, or about 93,000 square feet, at The Square at South End, a 153,000-square-foot office building by Beacon Partners at the old Sauceman's restaurant site.
The Charlotte Business Journal reported last week the company would open a local office.
USAA says the move will support the company's efforts to attract audit, banking, legal, risk management and technology professionals.
"Opening an office in Charlotte is a win-win for USAA," said Wayne Peacock, USAA president and CEO, in a statement. "It gives us even greater access to some of the top banking and technology professionals in a community that has a deep understanding and care for the military. USAA has been serving military families for nearly a century, and we are excited to begin our second century with a growing presence in Charlotte."
It's expected USAA employees will begin moving into The Square, at 200 West Blvd., by the end of 2021. No incentives were involved in bringing USAA to Charlotte.
USAA ranked at No. 94 on the most recent Fortune 500 list and employs some 36,000 across the United States. Its reported 2020 revenue was $36.3 billion.
Erin Shaw, director of office investments at Beacon Partners, said late Thursday USAA will lease floors five to 10 at the building, and has signage rights for the top of the building. Another company, FastGrowingTrees LLC, also recent signed on to lease 7,500 square feet on half of the fourth floor, Shaw said.
HIIT fitness concept Volofit, by Tough Mudder Bootcamp, will also lease about 3,000 square feet on the ground floor, on the West Boulevard side of the building, Shaw said. In addition to a gym, the space will include a small office component for Volofit.
Fast Growing Trees will likely open its office this summer and Volofit in the fall, Shaw said.
The Square building is adjacent to a 1.5-acre Wilmore Centennial Park, which Beacon is working on with Mecklenburg County Park and Recreation. Separately, Ascent Real Estate Capital and Centro Cityworks are developing 132 apartments and retail space adjacent to the park.
Shaw said a dynamic restaurant or retail tenant for the park side of The Square building is still being sought.
Chase Monroe, Chris Schaaf and Bryan White at JLL represented USAA in the lease transaction. Shaw represented the landlord.